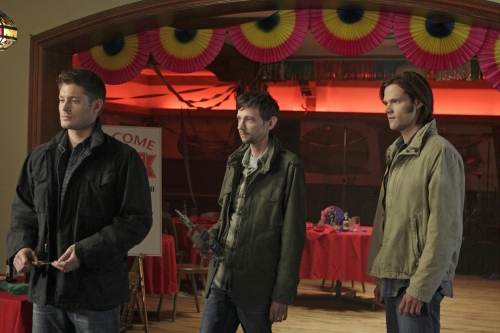 This week's new episode of Supernatural had the Winchesters unexpectedly reuniting when they both followed a string to murders to Lily Dale, New York, which is apparently the most psychic city in the U.S. But the brothers soon realized that most of the self-proclaimed "psychics" were fakes. However, a real ghost was actually killing the psychics. The Winchesters thought it was a long-dead woman named Kate, but it turns out that she was really trying to warn people that it was her sister's ghost doing the killings, along with a pawn shop owner who had bound her ghost.
The November 11 episode of Supernatural is appropriately titled "Season 7, Time for a Wedding!". During a hunt, Sam runs into someone from his past and there's a confrontation. Sam will also be taking a little trip down the aisle, although we're not yet sure of the reason why. Meanwhile, DJ Qualls guest stars as a easy-going hunter named Garth, who teams up with Dean.
You can also view photos for the November 18 here and go through our newest Supernatural slide-show: the most memorable Winchester fights.