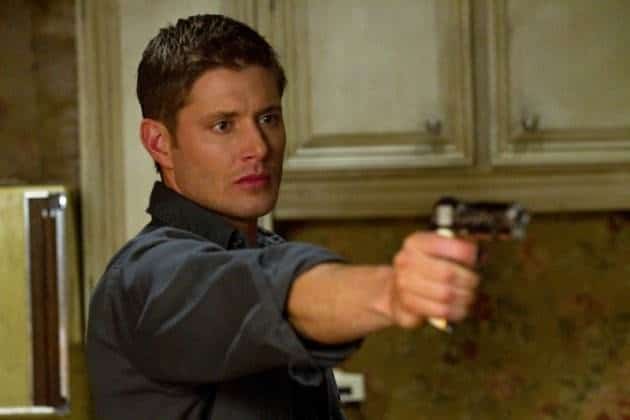 It only took 7 years of Supernatural for Dean's promiscuity to really have serious consequences (for some reason, it's always the women Sam has slept with that turned out to be crazy/murderous). In this week's episode, Sam was eager to investigate a case that had a bunch of male victims who were murdered in a shower of blood, with their hands and feet cut off and a strange symbol carved into their chest.
Always Use Birth Control
Dean, however, wasn't too interested in the case and ditched Sam after some initial investigating to head to the local bar. He found himself in the company of a lady (Lydia) pretty quickly and she was forward enough to invite him back to his place. Juxtaposed against their steamy scene was the murder of yet another man (that was pretty cool). The next morning, Dean joined Sam at the crime scene, but noted that he had left Bobby's flask at Lydia's house. He called her about it, but she brushed him off. Why? Well, she was massively pregnant.
The boys continued to investigate the murders, while the local female cop seemed abrupt and suspicious. They met with an anthropology professor (the Mayor from Buffy!), who eventually agreed to research the symbol and help them out. Later, Dean decided to head to Lydia's to retrieve the flask himself, and was shocked to find out she had a baby. A baby who was talking above its age. He spent the rest of the afternoon on a stakeout of the house and saw a 5 year old version of this same baby be taken off by two other Amazon women to be "schooled".
You Don't Want to Mess With These Chicks
The professor later revealed that the symbol carved into the men's chest was a mark of the Amazons and brushed them up on the lore. Dean started to get worried that Lydia's daughter (Emma) could very well be his and he might be the next victim (thinking that the mothers eventually killed their children's fathers). The boys continued to dig through Bobby's research, even stopping at one point because some papers had been moved without being touched. Dean suggested maybe Bobby's ghost was hanging around, but Sam dismissed it (more on that later).
Sam headed off to the university to get the professor to decode some ancient Greek text and Dean remained behind in the motel. Shortly after, he got a visit from Emma – his daughter. She asked for his help to escape the Amazonian tribe, claiming that they wanted her to do horrible things.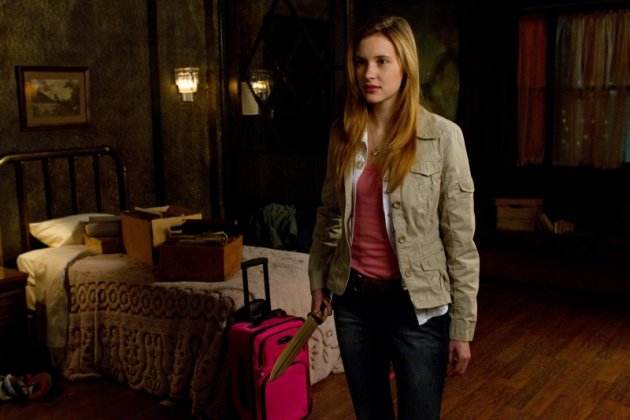 Meanwhile, the professor was setting Sam straight, telling him that it was actually the daughters killing their fathers as they were fully initiated into the tribe. Sam realized Dean could be in danger and raced out of there, only to be stopped by the local cop, who was an Amazon and knew his real identity. Fortunately, he was able to kill her with a single shot to the chest and then he was off.
Back at the motel, Emma did her best to sway Dean to help her, but it was all a ruse. Fortunately, Dean was on to her and pulled his gun on her when she took out her knife. But he hesitated, unable to shoot her, and the two were in a stand-off. Sam made it back to the motel and burst through the door. Again, he saw Dean hesitate, so he shot Emma through the heart.
Dean seemed conflicted, but the brothers headed to the Amazon warehouse, hoping to kill the other women. Unfortunately, they seemed to have skipped town. As the brothers were driving out of town, Sam confronted Dean about his hesitation, especially after his insistence about killing Amy. Dean kept insisting he would have killed Emma, but what Sam really wanted was his brother to be alright and not get himself killed. Dean rightly pointed out that the both of them were adrift.
Concluded on next page…