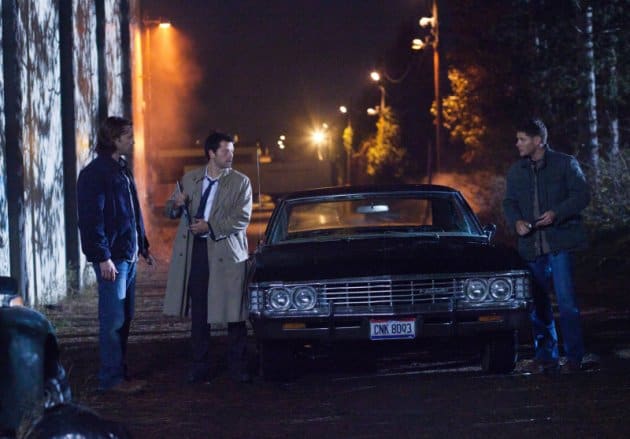 I was so pleased by the January return of Supernatural that I can barely contain my happiness. Which is, frankly, surprising for an episode that was fairly heavy on the angst.
A New Discovery
Let's start with the angel story. We learned that poor Samandriel had been tortured by Crowley and his minions for weeks now as they attempted to learn more about what made angels tick. While left alone, he was able to send a distress call to Naomi over Angel Radio, but the head torturer put the kibosh on that very quickly. Fortunately, it was enough of a warning to Naomi that she called on Castiel and tasked him with rescuing the captured angel.
Cas immediately reached out to Dean because he knew that Crowley would have his warehouse angel-proofed. The two followed the trail of a burning bush courtesy of Samandriel and then headed to Kevin to make a few demon bombs. It turns out the prophet is hiding aboard Garth's houseboat without any distractions (including his mother) as he desperately tries to translate the tablet fragment they have. Castiel went off in search of ingredients and also returned with Sam. Dean grudgingly agreed to work with his brother again (more on that situation soon) after Castiel told the two of them to "stow their crap" and off the group went.
They arrived in time to save Samdriel, but not before Crowley extracted an important piece of information from deep within his head: an Angel Tablet exists. Crowley was shocked by this news, but guess who wasn't? Me. Because I called this a while ago. It's always made sense that an Angel tablet exists. God has – as we've seen – been a big believer in the balance of good and evil and he knows that angels are not without their flaws (ie. Lucifer), so it makes sense that he's passed on Word about angels.
But Naomi had an extreme conniption when she learned the information that Samandriel had unwillingly given up under torture and as Samandriel was desperately trying to impart some information to Castiel ("They're controlling us, Castiel"), she was ordering Castiel to kill him.
Except something mysterious has been done to Cas. Whatever Naomi and her angels are doing, it's not something we've ever seen before. She readily admitted to Cas that the Angel Tablet could achieve what the Demon Tablet does: lock angels away in Heaven. But when Castiel pressed for answers about his memories of her drilling into his head, she dismissed his questions and ordered him to return with Samdriel's body.
What is going on here?! I believe my theory about the angels' pursuit of the Angel Tablet is right, but to what end? Is it simply to ensure they are free to roam the world or is there something darker at play here? Who is Naomi and how did she gain the power that she seems to have? You know what needs to happen here? God needs to return. If we are to assume that he interfered in the apocalypse (and I do), then I cannot see how this current situation couldn't become just as bad. Maybe not for humanity, but certainly for the balance between good and evil. I think that "Daddy's" been absent for too long now and something is rotten in the state of Heaven.
It's a shame that Castiel has to pay the price for these manipulations. I don't believe this is anything like season 6, because then he was operating under his own choices. But I'm always worried when someone is a pawn in a larger game and I would hate to see this tarnish Castiel's reputation with the Winchesters, particularly after he's tried so hard to redeem himself. And that might already be starting, because Sam and Dean were suspicious about Castiel's actions and returned to the cabin to discuss the situation with full angel proofing in effect. They have no idea what's going on with Castiel but they are fully aware that something is amiss. That fact pleases me greatly, because I don't like when the writers keep them in the dark and I do like when they show off their smarts.
Concluded on next page…