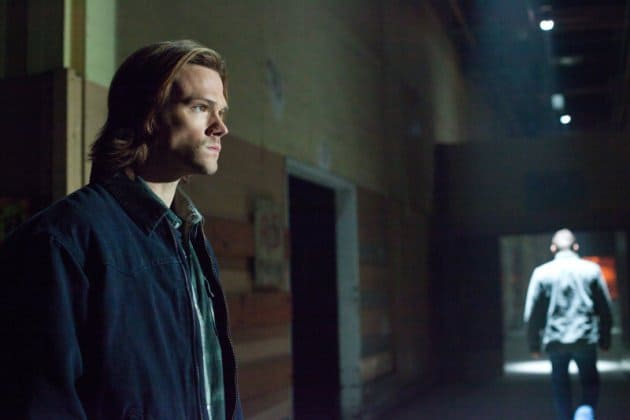 Making a Choice
Now we come to the storyline everyone was waiting for after the Supernatural mid-season finale: the resolution of the recent fight between Sam and Dean. Dean had followed his brother to Texas, but that initial discussion ended badly. At the beginning it appeared that it might go somewhere, because Dean was calmly trying to explain the situation, but Sam was too angry (and justifiably so) to have that kind of discussion. He accused Dean of inciting fear over the "woman [he] loves", drawing on the deep-seated feelings that he's had since Jessica burned up on that ceiling all those years ago, while at the same time telling Dean that he simply couldn't trust Benny. Dean asked him to trust HIM, but Sam wouldn't hear of it. Sam's anger towards Benny still doesn't really make sense to me given his experiences with certain "good" monsters in the past, but I still think he's lashing out because he's angry that Dean kept Benny a secret from him. So Dean stormed out and stubbornly clung to the belief that he didn't need Sam.
Then Amelia appeared and a short conversation with Sam led to the two of them jumping into bed together. He took his shirt off this time (yay!), but was immediately filled with remorse afterwards, telling Amelia that they were wrong to sleep together given her relationship with Don. But Amelia told him that while she cared for Don and the life they were building again, she simply couldn't let go of Sam and presented him with a choice: they could meet in the motel room in two days and be together going forward, or they would separate forever.
Of course, Sam was then dragged into the angel rescue by Castiel, but a strange thing happened when that was done. After their speculation about what Castiel might be up to, the brothers finally had a sorely need mature discussion. Dean suggested that Sam return to Amelia and admitted that he may have been jealous: "I can't ever separate myself from the job like you could. Maybe it's time for one of us to be happy." But Sam said "She does make me happy and she could be waiting for me. But now….with everything staring down at us, with all that's left to be done. I don't know…" Dean left the option to his brother to decide what to do, with his only suggestion that he make a decision and stick to it wholeheartedly. This isn't Dean trying to tell Sam what to do, this is a big brother who is prepared to let his little brother go. There was no guilt or recriminations here.
And off Sam went for a walk. Let's pause here for a moment, because I think Sam's choice was clear from the beginning of this conversation. I think that he cares for Amelia.  But true, genuine love? The kind of love where he leaves his brother and hunting? No. First of all, Sam was never going to make that choice, because then you wouldn't have a show. But more importantly, I think that what was missing the first time Sam had to make this choice (ie. when Don returned and in episode 8.01 after Dean came back) was that Sam had to be in control of this choice. He may have used hunting as bit of an excuse here, but I think he ultimately came to terms with Dean and their job and realized that this was the only life for him. And unlike all those times he did it under "duress", this time it seemed like he was at peace with his choice.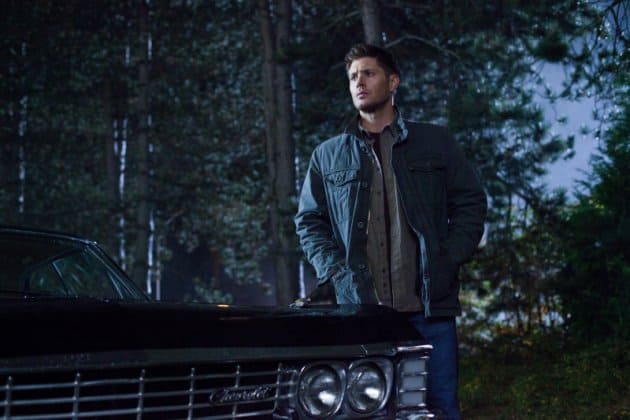 And, more importantly, he didn't ask for anything from Dean in return. Unlike at the beginning of the episode when he asked if Dean was done with Benny, this time he took a walk to make his own choice, free of any need for reciprocal action. But Dean made his choice as well and despite the fact that Benny called needing help to stay on the wagon earlier in the episode, Dean now called him back to say that he was grateful for the things Benny had done, but this was the end of the line.
As far as we know, Sam doesn't know what Dean did in the end. But Dean does. When it came down to it, both Winchesters had to make a sacrifice to stay together, but I don't believe they resent each other because of this (P.S. Amelia did return to the motel room and found it empty). I think it was Dean's conversation with Kevin that made him realize what he needed to do. Kevin was knee-deep in translating the tablet and admitted that he had sent his mother off somewhere else. Kevin's in that stage of the soldier's life when he thinks he needs to focus on the mission at the exclusion of all else. Dean's been there, but now he realizes that he doesn't want to be forced to give up his brother and that the mission isn't always the most important thing in life.  It's certainly not more important to him than Sam. So while he was prepared to let Sam go if that was his choice, he would hang on to him if he chose to stay.
You know what the Winchesters are doing? Compromising (in a way). It's AMAZING! I'm not sorry to see Amelia go, because I've never really thought she fit in to the show and I've said that many times (although, like when Dean lost Lisa, I'm sorry to see the brothers lose the idea of a normal life). I am sorry if this is the last we've seen of Benny because I have enjoyed his character (although I have to wonder whether he'll fall off the wagon now and Dean will be forced to kill him). And it is kind of sad to see that they both had to give up someone because the other didn't agree with this person's position in their lives for varying reasons.  But more than anything, I'm thrilled to see that a bridge had started to form between Sam and Dean. Despite all of the angst and repressed hurt over so many seasons, the boys arrived at a mature decision independent of threats or guilt that resulted in an acknowledgement that they are better together than apart. This feels like the most best decision either of them have made in a long time and I'm just so relieved. Although I can see the need for conflict between the brothers on the show, seeing them at odds is always painful. And yet, the idea that family wins out is still the cornerstone of this show.
This feels like Supernatural. This feels like the brothers are on a similar wavelength and while there are ways to go, this was a good first step. I'm so pleased by the mytharc this season (even if I did call it a while ago) and I'm pleased by this turn in the brothers' relationship. I feel like we're all in this together now.
Felicia Day returns as Charlie next week in an episode that will hopefully be less angst-filled than this one. Watch a preview here.
Speaking of angst, earlier today I posted my newest Supernatural slide-show about the best angst scenes.
Visit our Supernatural page for the latest news about season 8.