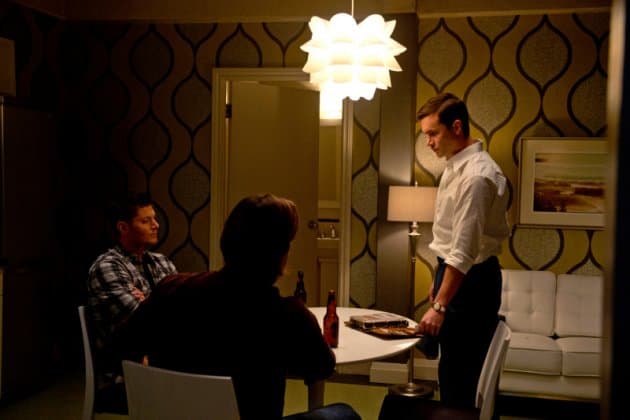 Daddy Issues
Dean has always had a complicated relationship with his father. His desire to act like a good little solider is a cornerstone of Dean's personality. And while Sam and John clashed constantly over Sam's desire to leave a life of hunting, Sam has come to terms with the life his father led and the life he raised them in (see episode 5.13 "The Song Remains the Same"). But it's Dean that has felt guilty over John's sacrifice to save his life and his own struggle to prove himself in John's eyes. His defense of John and his choice of hunting in this episode is not uncommon. Dean has generally been a member of the "John did everything he could" camp. And he's not wrong. I've never really understood this occasional vilification of John that has occurred over several seasons of Supernatural. Yes, the man was far from perfect. But there's no doubt in my mind that he was doing the best that he could under the circumstances.
Could John have taken the time to create a more normal life for his sons at times? Could he had gone easier on them? Yes, of course. But all the way back in episode 1.20 John acknowledged that he pushed Sam and Dean (and sometimes pushed them away) all in the name of protecting them. The road to Hell is paved with good intentions, but that doesn't always negate the good intentions. In the end, John gave up his life for Dean and no matter what we learn about his parenting techniques, I don't think anything will ever cancel out that sacrifice. Not only did he die for Dean, but he willingly gave up his chance at revenge – the thing he had been seeking for over two decades – as well as the weapon that could achieve that revenge, to ensure that Dean would live. If that's not love, then I just don't know what is.
In the end, Henry understood Dean's defense of John. He knows that he – inadvertently – informed John's personality with his absence and he said that "I didn't know my son as a man, but having met you two, I know I would have been proud of him." It was obvious, in the end, that Henry's absence didn't only help shape John's personality, but Henry himself was reflected in John. The Henry we saw was a know-it-all at times (sound familiar?), but ultimately a man who knew the value of family and of sacrifice for the greater good.
The Motherlode of Knowledge
I'll be honest, I didn't see this whole MoL thing coming. I thought Henry would be a typical hunter, but I love this twist in the mythology. It's hard to keep things fresh as a show advances in years and Supernatural is no exception. But the tablet mytharc has felt like something new that connects well with what we've seen over the years and the MoL discovery feels the same because it's a twist on a family that we sort of know well. Now, I'll admit, my one nitpick about this treasure trove of information that Sam and Dean will seek out is that it's basically a bunker full of Bobby and/or angel powers. It's a little convenient, right? All of that information now at their finger tips. And yet… I'm not really complaining. Because it's a cool twist that has the possibility to open up a lot of doors for the boys. In particular, I think this information will appeal to Sam, who has always been drawn to this type of thing. I see Dean as happy if they can use this information to act on it, whereas Sam is more drawn to accumulating the knowledge in the first place.
The Continuity Issue
I'll admit, there's a great deal about this episode that doesn't really fit in with what we know. I was complaining the other day on Twitter that it makes no sense that John grew up without a father as was said in this episode. Because I had been watching episode 4.03 as research for a recent slide-show, I instantly recalled a scene at the beginning of that episode where a fellow diner visitor tells John to "say hello to your old man". So…what old man? A stepfather? And yet, nothing about what was said in this episode indicates that John had any father at all after Henry left. So yes, that bothered me. Not only that, but the somewhat out-of-left-field existence of Men of Letters (unknown to hunters and even Bobby before now) was a bit strange. That aspect isn't retconning, so to speak, but it's surprising.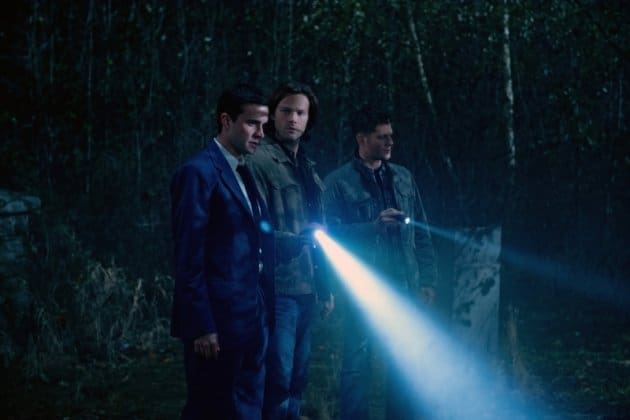 But here's what I do know: I was emotionally satisfied with this episode, but maybe not intellectually. I didn't like the continuity nitpicks, but I did like Henry and his emotional connection to the boys and the entire discussion of family. And, because of that, I'm willing to overlook certain flaws. After so many seasons of universe building, Supernatural will occasionally step on its own toes. It's not going to ruin my overall enjoyment of the episode or the show as a whole. I did enjoy the good aspect of the continuity: tying John's intended legacy into the whole cupid speech that John and Mary were meant to be together. Sam acknowledged this at the end of the episode when he said that his parents were destined to be together because they essentially made the perfect team: John would have been the "brains" and Mary would have been the "brawn". The perfect unity of Hunter and Man of Letters. Of course, we know it didn't happen like that, but I appreciate the show bringing that aspect full circle.
In a Better Place
Given the recent tension between Sam and Dean, I'd be remiss not to bring it up one more time. In last week's episode I mentioned that Sam and Dean seemed to be in a much better place with each other. Yes, the boys are not necessarily one for the big talks that sometimes desperately needs to happen with them, but they're working on repairing their relationship. This week's episode solidified that even further. The issue of family – and of John – is the very thing that brought them back together back in season 1 and, time after time, it has united them. Dean's declaration to Henry that he refuses to let harm come to Sam is one that we've heard before, but the vehemence behind that statement is always strong and feels like a balm after the conflict between them. And while Sam wasn't forced to save Dean in this episode, he spent a lot of it in a position he's been in before: as his brother's biggest supporter and partner.
I think that we've reached a point where it won't be necessary to remark on the brothers' relationship each week. I think they're in a very good place now and I look forward to seeing how the new MoL information will help unite them, as will the tablet quest.
Read spoilers from Bob Singer on the MoL bunker and what comes next for Sam & Dean.
Despite the rather sad ending to "As Time Goes By", I feel so hopeful for the future of Supernatural. Season 8 is, and continues to be, very enjoyable. The show continues to feel renewed and creative and even if I nitpick over things, it doesn't diminish my enjoyment of the season. Let's bring on the Ben Edlund episode next week! I feel a streak of great episodes on the horizon!
Watch a preview for the February 6 episode of Supernatural and check out our newest – and very apropos – slide-show: Most Memorable Winchester Relatives Scenes.
Visit our Supernatural page for spoilers, sneak peeks, reviews and more.