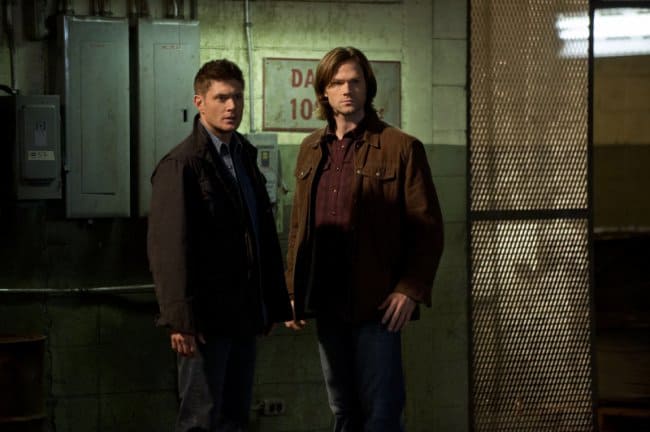 Let's pretend that last week's Supernatural didn't necessarily happen because the show did a complete 180 this week and delivered up an episode that was both poignant and well done (as opposed to last week which, while not atrocious, felt quite flat to me).
The Ultimate Punishment
The episode opened with the death of a man who mysteriously awoke – alive – again the next morning. In the Men of Letters bunker, Sam was continuing to cough up blood and try to hide this fact from his brother. To distract him, he offered up a potential zombie case.
But the case wasn't quite so cut and dry. It turns out that the "zombie" was a man named Shane who had no real memory of who he was. All he knew was that he died and came back to life each day. As the boys tried to piece together his real identity, they were shocked when a strange woman appeared in Shane's room later that night. Shane didn't recognize her, which seemed to wound her, but she then disappeared without a trace. Later, another woman (Hayley) stopped by, this one claiming to be the mother to Shane's son, Oliver.
Hayley seems pretty accepting of Shane's tendency to die, but it turns out that her son suffered from the same affliction. When Sam deduced that Shane was actually Prometheus, the brothers brought their new allies to the MoL bunker to research a way to get in touch with Zeus. They discovered a ritual that could trap and kill him, but Zeus wasn't interested in negotiating with the puny humans. Hayley released him from his trap in hopes that he would cure her son, but it turns out that his hatred for Prometheus over the fact that he gave fire to humans was eternal and he would rather see Oliver – and Prometheus, by extension – suffer.
The woman from the motel room – Artemis – stopped by and was prepared to kill the Winchesters while her father continued to torture Prometheus, but Sam baited her and convinced her that Prometheus truly loved her and that she needed to do the right thing here. Evidently she believed that too because she agreed to kill her father. Unfortunately, Zeus used Prometheus as a shield for Artemis' arrow and then Prometheus sacrificed himself so that Zeus could be killed.  In the end, Dean and Hayley burned Prometheus' body while Sam watched over Oliver.
Tackling the Gods
Of course, any discussion of "Remember the Titans" will inevitably bring up comparisons to that season 5 episode "Hammer of the Gods", which also brought the Winchesters together with a group of mythical gods. I don't have the disdain for that episode that many Supernatural fans do because I did enjoy the scenes between Lucifer and Gabriel, but I'll admit that those gods, while occasionally humorous, were more one-dimensional caricatures. I thought this week's episode was a far better tackling of the subject of mythical gods than the previous one, which is quite interesting when you consider the fact that Dan Loflin wrote this episode and co-wrote "Hammer of the Gods".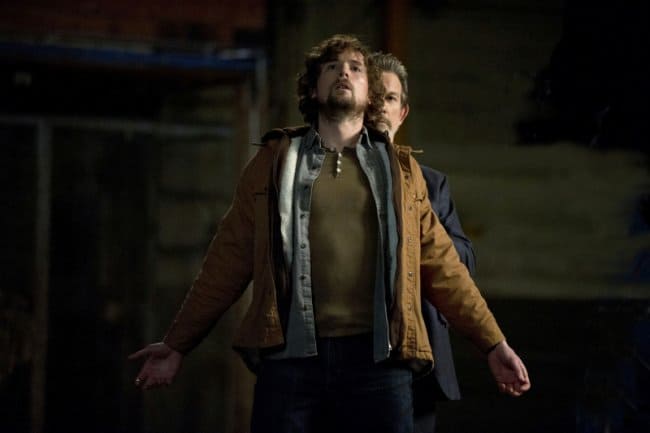 I think my most enjoyable aspects of "Remember the Titans" were the guest stars, who I thought were quite effective in their roles. I enjoyed the fact that Hayley was rather accepting of Prometheus' situation rather than being hysterical and took her exposure to the supernatural side of life in stride. I guess watching your son die and come back to life each day will make you eager to accept any explanation, but I understood her actions…even her misguided choice to free Zeus because of her love for her son. I also enjoyed the little nods to Prometheus, including his time on the mountain, the bird that was eating his organ while he was dead on the road and the "toga" he made out of a sheet. Supernatural can do subtly quite effectively and all of the clues to Prometheus' tale were well done.
Sins of the Father
Of course, perhaps I connected with this story better than last week's story because there were many parallels between the guest stars and our main characters. Suffering for the choices of your father was a "curse" bestowed upon Oliver and one that Dean and Sam have had to suffer from their entire lives. In the same vein, Oliver's quiet admission to Sam at the end that he would rather stay at his father's funeral rather than go get an ice cream sundae is a terrible choice that both Sam and Dean have made numerous times. Don't we see then constantly accepting responsibility rather than having a "normal" life? The weight of the world was on that child's shoulders and he seemed to have aged in such a short period of time. Was that what Dean, in particular, was like when he was young? Silently accepting responsibility beyond his years? What a terrible fate for such a young child.
The conversation between Prometheus and Sam in the graveyard also stuck with me. "You pretty much saved the whole world" Sam told Prometheus after telling him that he had gifted humans with fire. "Yeah, I guess," Prometheus admitted. "But none of that means anything unless I can save my son." Isn't that a sentiment that the Winchesters share? That saving the world is great, but saving your family is the most important thing. And don't get me started on Artemis turning against her father in order to do what was right, an action committed by characters like Castiel. There were a lot of themes in this episode, including love, family, revenge, heroism and sacrifice that have been with Supernatural since the beginning.
Concluded on next page…