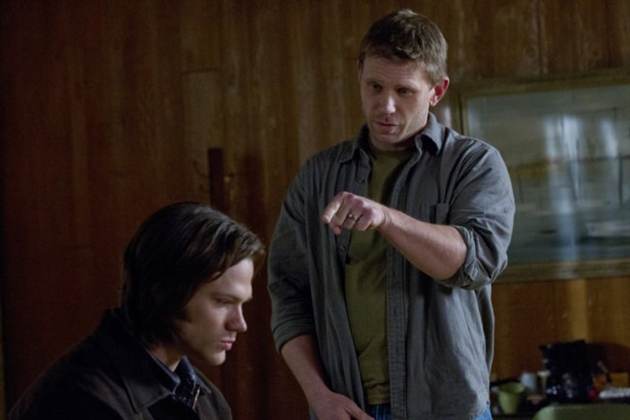 The Slow, Terrible Descent into Madness
Back in the hospital, Jared Padalecki was acting his socks off. With Lucifer (guest star Mark Pellegrino) on a gleeful rampage, intent on keeping Sam awake and insane, Sam's loss of both focus and strength was jarring. The only thing that really managed to catch his attention was a fellow patient – Marin – who reached out to him and offered him a candy bar. He soon learned that she was clearly being haunted by the ghost of her dead brother. While her brother had been cremated, he was able to burn a bracelet that had belonged to the boy, getting rid of his ghost for good. Marin was incredibly grateful, but Sam's recent pyrotechnics caught the attention of the doctor, who wanted to discuss surgical options. So Sam was wheeled off to the electric shock therapy room.
It's difficult to chart the trauma Sam went through in this episode and I don't want you to equate the lack of description with dismissal of what happened to Sam. The truth is, Padalecki has never been finer. I've always felt affection for Sam who has, I've felt, suffered through a great deal. Not any more or less than Dean, just a different sort of ordeal sometimes. In the midst of his own catastrophe, Sam once again proved why he and Dean are true heroes: he wanted to save someone else even as his own mental state deteriorated rapidly. Their willingness to help others – even at the cost of their own safety or worth – has always been one of the Winchesters' strongest characteristics. It's gotten them into trouble time and again, but it's always made them the noblest of men.
The Realization of Self
Outside the hospital, a slew of demons had possessed staff and patients of the hospital, blocking Dean from getting inside with Cas. Meg decided to try and jog Castiel's memory, in hopes that his demon-smiting powers would come in handy. Castiel was skeptical when Dean said he was an angel, but he was willing to try. He marched into the fray, put his hand on a demon and…that was all she wrote. As his powers returned to him, so did his memory, in a flashback montage that can only be rivaled by the one that appeared at the end of the Supernatural season 5 finale, "Swan Song".
Returning to Dean and Meg, Castiel was horrified by what he had done. He remembered everything, including opening the door to Purgatory and breaking Sam's wall. This was Dean's moment. The thing is, he didn't – and couldn't – truly forgive Castiel. But he reached out to him. Castiel didn't want his actions defended by Dean. "I can't possibly fix it," Castiel said, "so why did I even walk out of that river?" "Maybe to fix it," Dean retorted.
The truth is, forgiveness may have been in short supply, but Dean certainly knows about redemption. At one point or another, all of our Supernatural boys have committed acts that they – and we – have thought of as "sins". Actions that needed to be redeemed. Dean wasn't going to wipe the slate clean, but he was prepared to extend an olive branch to his former ally: a branch in the form of his trademark trenchcoat.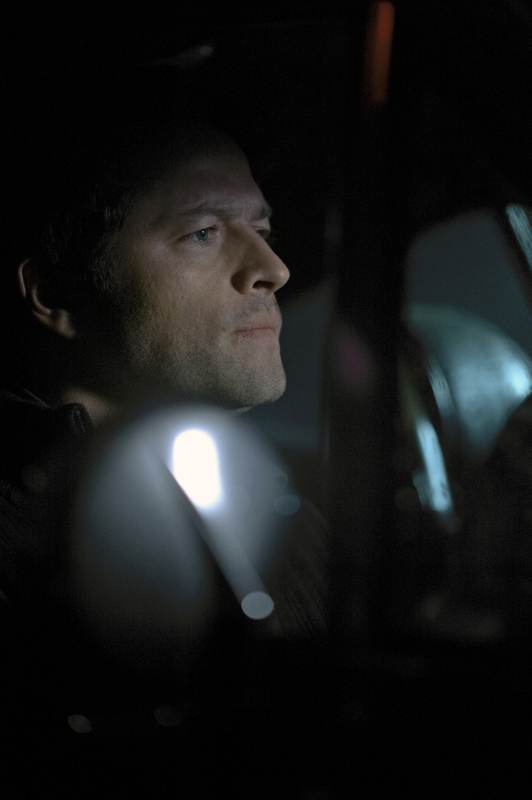 This spurred Castiel into action, and he managed to save Sam from the demon who was shocking him. Regrettably, his attempts at healing didn't help. Sam was, at this point, unable to see anyone by Lucifer. Castiel felt a tremendous amount of remorse as he explained to Dean that he simply couldn't heal Sam. But, as our boys tend to do, he could offer up assistance in the form of sacrifice. He laid his hands on Sam's head, not to heal him, but to shift his affliction onto himself. Before he did it, he explained to Dean that he, as an angel, could handle it.
And it's true. Castiel is now locked up in the asylum, seeing visions of Lucifer, but he can handle the situation better than Sam. Since he has no need to eat or sleep, he can live with the hallucinations, at least until the Winchesters can find a solution.
In the end, Sam was shocked to see Castiel and shocked at what he had done to save him. Truly, Castiel's actions were the best possible outcome that Supernatural could have delivered. There was no easy fix here. No one was simply healed to fight another day. Sam's condition may have been shifted, but Castiel took the necessary steps to redeem himself. To put it crudely, "you broke it, you bought it". He needed to take this on, not only because he was responsible for the wall break, but also because this is the type of action that the Winchesters can respect. These boys know and understand sacrifice. Truly, Castiel's actions in this episode will go further in redeeming himself in their eyes than any other course of action he could have taken.
A Bleak Future? Or a New Hope?
In the end, the Winchesters raced from the hospital. Clearly feeling remorse for the fact that Cas had taken on his hallucinations, Sam was hesitant to simply leave him there. But Dean understands the practicality of the situation: they simply cannot take Castiel with them. They are being hunted by leviathans (sometimes) and they can't protect Castiel when he's really unable to fight. Instead, they have to leave him in the hospital with Meg (who has just gotten a job there) to watch over him. Dean knows she can't necessarily be trusted, but it's their only choice.
Some fans weren't happy with the ending, or thought it was rushed, but the truth is that it was really the only acceptable ending. And we know it's not an ending, because Castiel is scheduled to return in at least two additional episodes of Supernatural this season. This was more of a "to be continued…" situation. He's of no use to the Winchesters right now and being let out in the open will leave him unprotected. This was not necessarily the choice Dean would have made a few years ago. But, as he pointed out to Cas, he's not the same man he once was. He knows that making the tough decisions now are a fact of his life.
As for some concerns about Sam's storyline…I think this was also the perfect ending to that arc. The truth is that Sam simply cannot have suffered through these hallucinations forever. He either would have ended up dead or insane. There's no real middle ground here, unfortunately. They absolutely had to go. But instead of simply wiping them out of existence (which would have been the wrong ending), Castiel took them on. Frankly, I have no idea how he'll get rid of them, but that's a problem for another day.
This episode – like the season premiere, the Edlund episodes, and "Death's Door – was near perfection. Occasionally Supernatural may go off the rails, but it never, never fails to pull me back in. Even when it's not at its best, it's still good. But when it's firing on all cylinders, it reminds us why it's one of the most underrated shows on television. Sera Gamble struck the right balance between so many difficult topics: forgiveness and redemption chief among them. There's really no easy answer concerning both Sam and Castiel's story arcs, but the resolution that we were given felt both right and earned.
Truly, I cannot wait to see Castiel return and find out what happens next.
Supernatural is all new on March 30. Check out a preview for that episode and make sure to browse through our latest Supernatural slide-show: Castiel's Most Memorable Scenes.