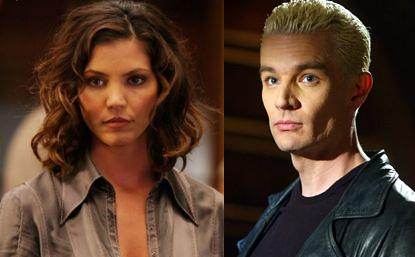 I can barely contain myself with this news, I'm so thrilled. TV Line has reported that two Buffy: The Vampire Slayer alumni will be making a guest appearance in an upcoming season 7 episode of Supernatural. Which two alumni? Charisma Carpenter (Cordelia Chase) and James Marsters (Spike).
Are you psyched yet? Carpenter tweeted yesterday about the possibility that she would be appearing on Supernatural, but apparently it's a done deal now. The duo will be appearing together, playing a husband and wife in episode 7.05, entitled 'Shut Up, Dr. Phil.'
Showrunner Sera Gamble shared: "'This episode is '˜Bewitched gone wrong. [It was] all upside for this successful man (Marsters) while he was married to the witch (Carpenter), but now that he's pissed her off, the whole town is paying the price.'
Of course, Carpenter and Marsters aren't the first Buffy cast members to make guest appearances on Supernatural. Amber Benson, who played the witch Tara on Buffy, also appeared twice on Supernatural, most recently in a season 6 episode. Julie Benz, who played the vampire Darla on Buffy, also appeared in a very early episode of the show, as did Amy Acker, who starred on the Buffy spin-off, Angel.
For more season 7 spoilers for Supernatural, check out our coverage from Comic-Con.
Supernatural returns with its seventh season on Friday, September 23 on The CW.