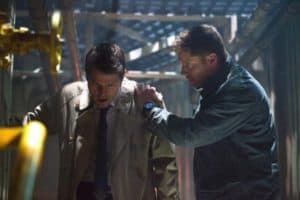 Supernatural star Misha Collins first spilled the beans for those of us who recently visited the set in Vancouver and then The CW confirmed it with their own November sweeps teasers, but episode 8.07 is the episode where Castiel will be getting out of Purgatory.
We don't know why Castiel failed to get out of Purgatory when Dean and Benny escaped.  A flashback in episode 8.02 showed us that Dean was determined to get his angel friend out of that place, but a split second of scenes showed us Castiel reaching out for Dean and screaming his name.  Did Dean leave him behind?  Did something prevent Cas from escaping Purgatory?  We're not sure.  But in episode 8.07 Castiel will somehow have escaped Purgatory and will be reuniting with the Winchesters, both of whom are surprised to see their old friend alive and back on earth.  And it seems like Cas is surprised as well, because the angel has no memory of how he managed to get out.  How will the reunion go between Dean and Cas?  How will Cas react to Benny when they're both top-side?  The anticipation is killing me!
Elsewhere in this episode, the Tran family returns when Kevin's mother asks a witch to help her and son her construct a demon bomb.  Unfortunately, the witch turns Mrs. Tran and her son over to Crowley.  Will the Winchesters be able to save their prophet once again?
Use the arrows above to browse through photos for the November 14 episode of Supernatural. Visit our Supernatural page for previews, photos, reviews, spoilers and sneak peeks.