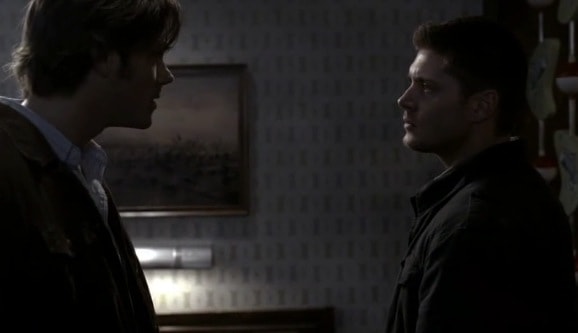 How would you classify Supernatural?  Would you call it a fantasy/genre show?  Or maybe a drama/comedy hybrid?  I would call it a giant angst-fest filled with manpain.  At least, I would after tackling this particular slide-show.
Sure, it's understandable that a show about brotherly love, apocalyptic feuds and death would result in angst, but you forget how much angst there actually is until you set about pulling out the most memorable scenes.  And there's a lot.  There's about 150,000 scenes of them.  Maybe more.  Enough to literally drive me crazy with the angst of trying to narrow them down.
I teamed up with Erin (@winestainedlife) to bring you the best among these scenes, the ones that stay with me or are particularly heavy.  Through the process we debated about the true meaning of angst, coming to realize that while the Winchesters are the undisputed Kings of Angst, there are times when they leave angst behind and move into scenes that involve pure, heartbreaking pain or grief.  Those scenes won't be included here, because they're an entirely different category.  We're going after the scenes with anxiety, fatalism and melodrama (not in a bad way, just in a very dramatic way).  Believe me, there's enough of those without including the scenes involving life-shattering pain.  And given the angsty place the Winchester brothers were in after the mid-season finale in December, I think this is the right time for this particular slide-show.
And so, I present to you the most memorable scenes of angst in Supernatural over the last eight and a half seasons.  Sit back and grab a drink, because this is going to take a while.  Click the link below to begin the slide-show and make sure you let us know what you think in the comments. (Note: sorry about the last 2 pictures, they seem to repeat. It's a glitch in the gallery that we can't seem to discover).
Don't miss all new episodes of Supernatural beginning tonight at 9:00 p.m. ET/PT on The CW.  Visit our Supernatural page for more about season 8.