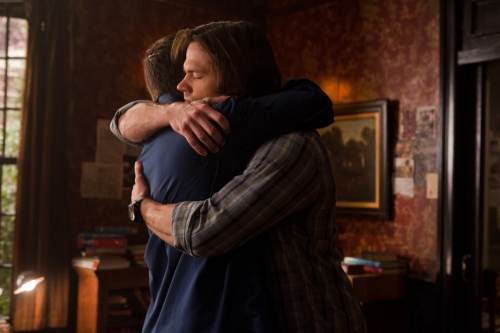 This Supernatural slide-show is a long time coming, and while it doesn't necessarily relate to the theme of this week's episode, there's no doubt that it fits into the overall theme of the show.
Secondary characters may come and go (particularly go, of course), but the one stable (and occasionally unstable) relationship in this show exists between Sam and Dean Winchester. The brothers may be at odds, but there's no denying that their relationship is the core of Supernatural. While season 6 saw a fracture in their relationship because Sam spent half of the season without his soul, season 7 has systematically stripped away all of the other people and resources in the Winchesters' lives, leaving them with only each other.
The enduring nature of their brotherly bond has prompted me to create a slide-show about the Winchester brothers' relationship. So what, exactly, do I mean by "brotherly bonding scenes"? I'm talking about the scenes with Sam and Dean that show the nature of their sibling relationship: the pranks they play on one another and the heartfelt conversations that they have that demonstrates the depth of their bond. I'm talking about the sacrifices that they make for one another, because they are brothers who would go to the ends of the earth to save each other. And I'm also talking about the fights between them – the types of conflicts that can only really happen between two strong-willed siblings that have grown up in an extraordinarily close relationship because of their life circumstances.
In other words, I'm talking about all of the scenes, conversations and moments that define Sam and Dean's relationship as brothers on Supernatural.
So we've got happy, funny scenes for you. And sad, tragic and heartfelt scenes. Big moments of pure love and sacrifice, and scenes where Sam and Dean express disappointment in each other's actions. Everything that makes them brothers is in this slide-show, so use the arrows above to navigate through it and, as always, let us know what you think in the comments below.
If you're new to these slide-shows, check out our Supernatural slide-shows from this season: Dean Winchester's Most Memorable Scenes, Bobby Singer's Best Scenes, Most Memorable Monsters and Creatures, Most Memorable Winchester Fights, Memorable Female Characters, and Best Sam Winchester Moments.