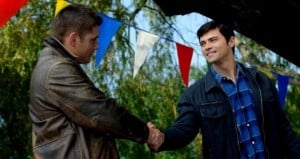 Family has been a cornerstone of Supernatural since the first scene of the pilot episode and while we've seen "family" through the eyes of Sam and Dean, it's only been on rare occasions that we've actually seen, or heard about, their other relatives.  John Winchester lasted only one season before he sacrificed himself to save Dean's life and Mary technically lasted less than 10 minutes before her untimely death.  And yet, we've had an opportunity to see both of these characters in some very memorable scenes, either with each other, with their children, or with other people.
This week's Supernatural will introduce us to Henry Winchester, John's father that was never really known to the brothers (read some spoilers about Henry and other characters this season).  Even John didn't know much about his father and he certainly didn't know the bombshell that Henry is about to drop on Sam and Dean: that the Winchesters have a history in the demon-killing community.  In honor of this episode, I've decided to go back through the years and select my favorite scenes with Sam and Dean's relatives, from their parents to their other grandfather to that one cousin they met that time (you'll see).  This is the shortest slide-show I've ever done, but there are some important, heartbreaking and funny moments sprinkled throughout, including moments that are crucial to the mythology of this family.
Use the arrows above to browse through our picks of the most memorable scenes involving the Winchester relatives and tune in to Supernatural on Wednesday nights at 9/8c on The CW.
Visit our Supernatural page for spoilers, photos, sneak peeks and reviews for season 8.  And catch up on our other most recent slide-shows for the series, including: Best Angst Scenes, Memorable Stand-Alone Episodes, Memorable Mythology Episodes and Best Action Scenes.