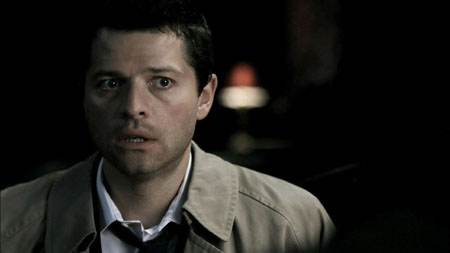 Normally, I've had a lot of fun putting together my past Supernatural slide-shows, which have included my favorite villains, the best guest stars, the hottest Winchester scenes (unsurprisingly, my favorite one!) and season 6 questions I think still need answers.
But this time, I AGONIZED over this slide-show. The truth is, Supernatural is superb at being both funny AND dramatic. There are few shows that can achieve a perfect balance between the two (and, more importantly, can be funny and dramatic at the same time). If I had to pick all of the scenes I found funny, I would have come up with a slide-show of at least 100 photos. And, yes, I know you wonderful Supernatural fans would have sat there and clicked through every single one, but I didn't want to give all of you carpal tunnel syndrome.
So, yes, you will probably say "Clarissa, you left so-and-so scene out!" and you're probably right. It's impossible for me to include every funny line, every amusing expression and every hilarious scene. But I tried my very best to put together a compilation of what I personally thought were the funniest scenes Supernatural has offered up over the past 6 seasons.
As always, I'm happy to hear your thoughts. Maybe you disagree. Maybe you think I should have added one or two more. Maybe we don't share the same sense of humor. Sound off in the comments below, because you're all so terrific about sharing your thoughts when I post a new Supernatural slide-show.
So, without further ado, here's what I think are the funniest scenes in Supernatural….
clarissa @ tvovermind.com
twitter.com/clarissa373
twitter.com/tvovermind
[imagebrowser id=991 template = flipped]