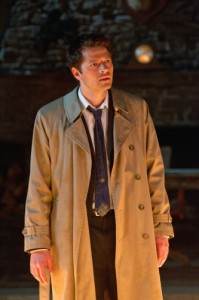 It looks like we're in for the mother of all backstory episodes on the May 6 episode of Supernatural. According to this preview hosted by Supernatural executive producer Sera Gamble, we'll begin Friday night's episode with "the big bang". We're getting the Castiel origin story that we haven't ever seen before on Supernatural.
I suspect that going through Castiel's story will help us understand his motives in teaming up with Crowley. According to Sera, they've peppered this season with hints that the Castiel-Crowley partnership was always the endgame.
In Friday's episode, Sam and Bobby obviously broach Castiel's betrayal with Dean. But Dean, who has accepted Castiel as a true friend and member of his extended family, simply doesn't want to believe that Castiel and Crowley could be working together, or that Castiel could lie to them. Dean's in for one hell of a shock, I'm afraid.
Ben Edlund directed and wrote this episode, but I suspect it will be more dramatic, like "On the Head of a Pin", instead of Edlund's trademark hilarious episodes. Which is fine, because he also does drama very well. Later this week we'll post our interview with Ben Edlund about Castiel's struggles and season 6.
Check out the preview below for the May 6 episode of Supernatural. You can also view promo photos, a trailer and a sneak peek that we previously posted for this episode.
We've also posted promo photos for the two hour season finale of Supernatural, which will be airing on May 20 (view part 1 and part 2).
clarissa @ tvovermind.com
twitter.com/clarissa373
twitter.com/tvovermind