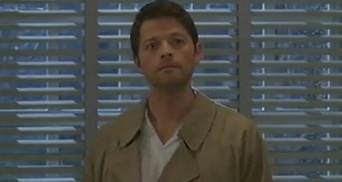 Cas is returning to Supernatural this week with a bit of a sense of humor. We're not sure whether it's a side effect of his Hellucinations, but maybe the Lucifer visions made him a little crazy.
As you may recall, Castiel was able to transfer Sam's visions onto himself back in episode 7.17, thereby allowing Sam to go back to normal…or as normal as he can be. Now suffering from the visions, Castiel remained in the hospital under the watchful eye of Meg while the Winchesters headed out to fight some Leviathans. In this week's episode, Meg calls the Winchesters to tell them that Cas has woken up, so they return to the hospital and find Castiel clothed in his hospital scrubs and trench coat. The angel has a special request: "pull my finger". Sam and Dean seem flabbergasted by his joke, particularly when the punch line is the fact that Cas manages to explode all of the lights in the room.
What's up with Castiel? He may be conscious, but are the visions making him unhinged? Meanwhile, the Winchesters encounter another prophet named Kevin (who will appear through to the end of the season) and they have to go up against two archangels who want Kevin for their own purposes.
Watch a sneak peek below for the May 4 episode of Supernatural, airing at 9:00 p.m. ET/PT on The CW. You can also watch a preview here.
Browse and bookmark our Supernatural page for photos, sneak peeks, reviews, spoilers and the latest episodes from Hulu.