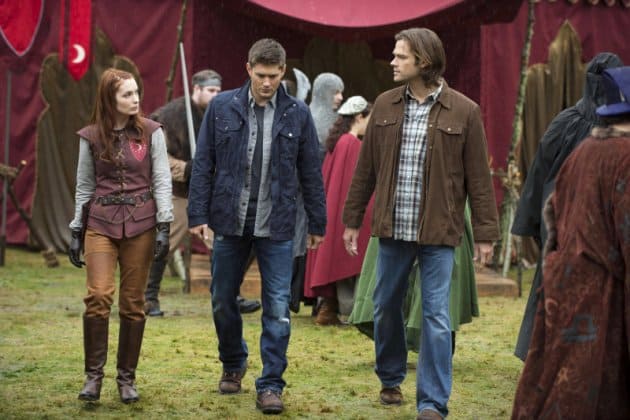 The Winchesters are recommitted to the cause and each other and are stepping away from the angst in next week's Supernatural to take on the wonderful world of live-action roleplaying.
Remember Charlie (Felicia Day) from season 7?  She went into hiding after escaping the evil clutches of Dick Roman, but when he disappeared and his company crumbled, she decided it was safe to resurface.  And resurface she did, in a very unusual way.  She's joined the LARP game of Moondoor and has been crowned its Queen.
The Winchesters investigate the deaths of two LARPers and are led to the game, but they're pleasantly surprised to find Charlie there.  She's less than pleased, knowing that monsters always follow the boys, but she suits Dean up in some medieval garb so that he can question her fellow players.  From the looks of the trailer, this appears to be another delightfully quirky episode.
Watch a sneak peek and producer's preview below for the January 23 episode of Supernatural on The CW.  You can also browse through photos for the episode here.
Keep an eye on our Supernatural page for more spoilers, sneak peeks, reviews and photos.
http://youtu.be/QMsVVb-RFaY
http://youtu.be/sseE-ktASQQ