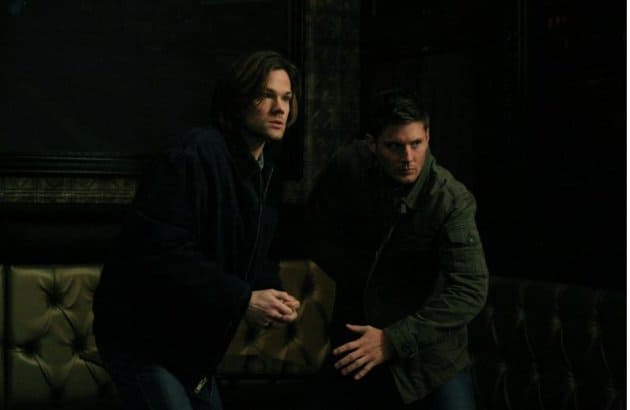 The Winchester brothers took the first step to close the Gates of Hell in this week's Supernatural and now Sam is committed to completeing the necessary trials with support from Dean (read our full recap and review).  Next week's episode doesn't deal with trial #2, but the boys will be revisiting a case from their past.  Much like the episode "Repo Man", we'll meet someone (in this case, a police detective) that once worked on a case with Sam and Dean.  Unfortunately for him, after the case he decided it would be a great idea to turn to witchcraft.  Now he's having terrible nightmares about killing innocent people.  As if that's not bad enough for his sleeping habits, the people in his dreams are now dying in real life.  This prompts his "famililar" to reach out to the brothers for help.
This leads to the case of mistaken identity in the clip that's been released for the episode.  Sam and Dean are back on the road in motels (I miss Dean's room!) and while Dean is out picking up some supplies, Sam is shocked when a dog scratches at their door and then enters the room.  Sam seems happy to play with the animal, but he knows that Dean isn't really a dog person.  And so he stops Dean before he enters the room to ask that the dog simply stay the night before they go search for its owner.  Then he opens the door and…well, I won't spoil the surprise for you.
Watch a sneak peek below for the February 20 episode of Supernatural on The CW.  You can also watch a preview for the episode here.
Visit our Supernatural page for spoilers, reviews, sneak peeks, photos and more.
http://youtu.be/OfPTtyvIYDI