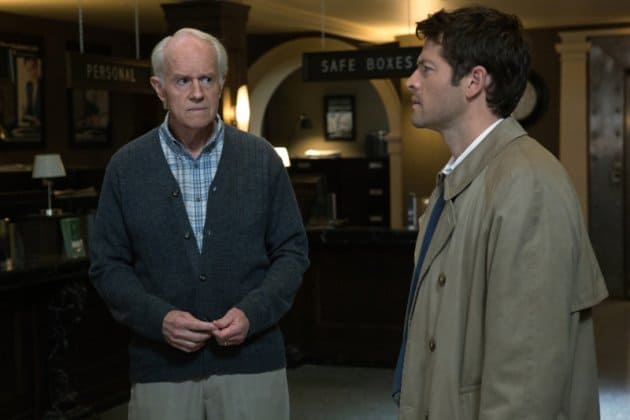 On Supernatural we've seen Castiel raise people from perdition and heal mortal wounds.  But do you know what he still can't do?  Interact with humans.
The poor angel tries, he really does, but he generally fails miserably at trying to duplicate subtle human interactions.  Case in point: in next week's episode Castiel decides to become a hunter like Sam and Dean.  In an attempt to show his dedication, he finds them a case.  The trio arrives at a small town where the deaths strangely resemble cartoon deaths (view photos).  The Winchesters take Cas along to speak to the wife of one of the victims, but he decides to take over the interrogation…leading to hilarious (for us) and traumatizing (for the wife) results.
Sam takes over then, while Dean gives Castiel strict instructions to watch how it's done and not bother to emulate what he sees on television anymore.  This leads to a few interesting relevations from the wife and her friend.
Watch a sneak peek below for the November 28th episode of Supernatural airing at 9:00 p.m. ET/PT on The CW. Visit our Supernatural page for spoilers, sneak peeks, reviews and photos.
http://youtu.be/fXGCilds2aA