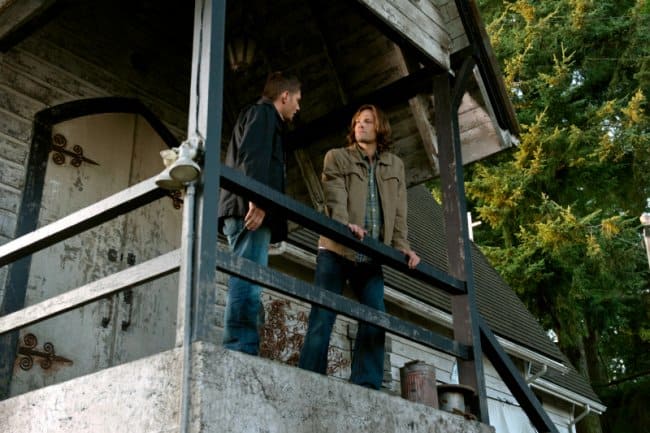 Following the new Supernatural preview that was released recently, we now have our first sneak peek from the season premiere!  And it's one of the best scenes there is: the Winchester reunion after months (or, in this case, a year) apart!
Sam, who managed to save the Impala after Meg smashed it into a Sucrocorp sign in the season 7 finale, heads up to Rufus' cabin, where he's immediately attacked by none other than his missing brother.  Naturally, there's the ceremonial demon/leviathan/shifter test to determine whether the brothers are not who they appear.  Once that's over and done with it's time for the ceremonial hug.  Sam is thrilled to see Dean alive after having been missing – and presumed dead- for a year.  Dean is quick to explain that he's been in Purgatory all this time, but he's very shifty about how he got out.
But where's Castiel?  According to Dean, he "didn't make it."  When Sam presses Dean to tell him whether Castiel is dead, Dean simply says that he "saw enough" about what happened to the angel.  Oh no!  Watch the clip below.
Don't miss the season premiere of Supernatural on Wednesday, October 3 at 9:00 p.m. ET/PT on The CW.  You can also view photos from the premiere here.
Keep an eye on our Supernatural page for spoilers, previews, photos and recaps for the show.