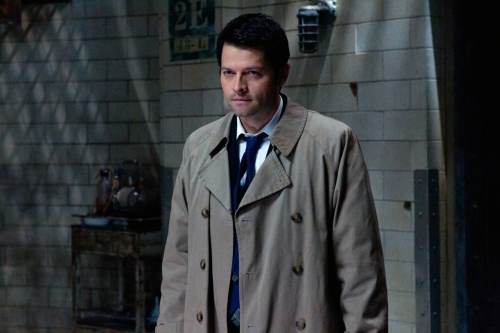 I hope Supernatural's Castiel fans will be happy to learn that Misha Collins will be returning for three episodes towards the end of season 7.
Warner Bros. has just confirmed that Collins will be returning to Supernatural as a guest star in episode 7.17 and will also appear in two additional episodes later this season. The studio is unable to provide the details of how or why Castiel will be returning to the show, but we're just thrilled that he's coming back!
Supernatural fans might recall that Castiel ended up opening a door to Purgatory at the end of season 6in his attempt to win the war in Heaven. He did manage to defeat his angelic arch-nemesis, Raphael, but he also absorbed some bad demons from Purgatory: the monsters we have come to know as leviathans.
Castiel went on a bit of a murderous rampage in episode 7.01 while being possessed by the leviathans. At the end of the episode, he was filled with remorse for his actions and returned to the Winchesters, begging for help. They convinced Cas to return the souls to Purgatory, but the leviathans had no intention of leaving. In fact, they decided to remain in Cas' body. But his vessel was unable to harness the power of all the leviathans so he ended up taking a walk into a lake and "exploded" in a mess of black goo, not to be heard from again.
We can't wait to see Castiel's (hopefully) triumphant return to Supernatural! Although, we're not yet sure he'll be the Castiel we know, but we hold out hope.
Updated: Who will Misha Collins play when he returns to Supernatural? Castiel or someone else? Read our theories.

Supernatural is currently on hiatus until January 6, 2012. You can watch a trailer for the next episodes here and take a look at a big midseason review we posted earlier today.