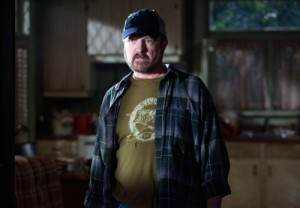 We know that Samuel will be making an appearance on tonight's all new episode of Supernatural (view a sneak peek and a trailer for the episode), but we also know that he'll be appearing in flashbacks during the year that Sam had no soul.
Given his betrayal of his grandsons towards the end of 2010, I wondered whether he would ever return in the present and attempt to connect with the boys again.
The CW has confirmed that Samuel (played by Mitch Pileggi) will be returning on the March 4 new episode of Supernatural. In fact, the boys meet up with two Campbell family members: Samuel and Gwen.
The Winchester brothers and Bobby will continue the search for The Mother of All's newest monster who's wrecking havoc on her behalf. During the course of their investigation, they'll come across both Samuel and Gwen, who are also searching for the same monster.
Can you imagine how thrilled the boys – Dean in particular – will be to see their grandfather again? Will they be able to put aside the harsh feelings to team up and try to stop the Mother? We do know that Bobby and Samuel will get into a fight about how they should deal with the monster.
This is going to be the ultimate showdown, people. Since Samuel re-appeared this season I've been itching for a confrontation between him and Samuel, if only to see the two father figures in the boys' lives interact.
My money's on Bobby.
On a side note, Rufus will also be making a guest appearance in this episode. Expect a known character to die in this episode. Oh no!
Make sure to tune into an all new episode of Supernatural tonight, and check back later for our review.
clarissa @ tvovermind.com
twitter.com/clarissa373
twitter.com/tvovermind