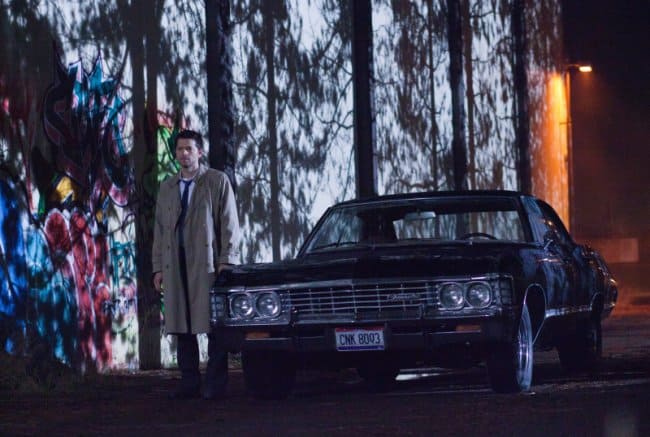 After this week's episode of Supernatural the show will go on a short hiatus for a few weeks until mid-March. But when the show does return, we're not only going to see the return of Castiel, we'll also be treated to what sounds like a pretty wicked mythology episode.
Updated: Watch a trailer for this episode.
Here is what's coming up next on "Goodbye Stranger": "Castiel (Misha Collins) reappears in Sam (Jared Padalecki) and Dean's (Jensen Ackles) life and tells them Crowley (guest star Mark Sheppard) has unleashed several demons into a small town. The demons are looking for Lucifer's Crypt, which holds a valuable asset, but Castiel lies to Sam and Dean about what it is. While interrogating a demon, the three discover Crowley has been torturing Meg (guest star Rachel Miner), who knows the exact location of the crypt. Sam and Meg fight to hold Crowley off while Dean and Castiel go in search of the crypt. Thomas J. Wright directed the episode written by Robbie Thompson."
Yikes. There's a lot going on here.  Why is Crowley searching for Lucifer's Crypt?  Could it have something to do with either the Demon or Angel Tablets?  And is Meg still on the boys' side or is she just looking out for herself as usual?
Don't miss this episode of Supernatural on March 20 on The CW.