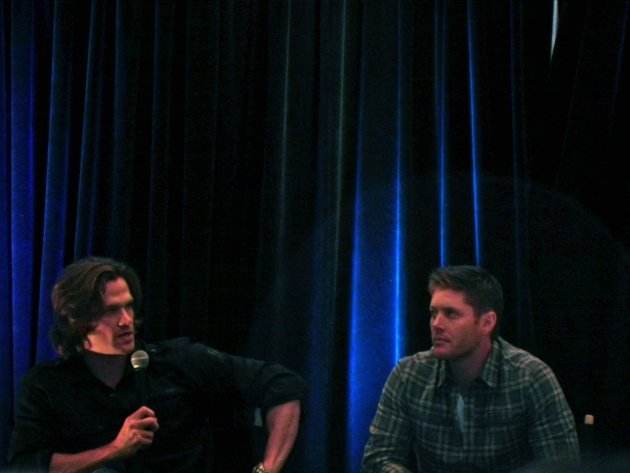 As much as I love being part of the Supernatural fandom, I have to admit that I had never been to a convention before this weekend. Fortunately, Creation Entertainment finally organized a Supernatural convention in my hometown of Toronto, so it was only a short trip to attend my very first "con".
I've attended the Supernatural panels at Comic-Con and have interviewed the actors before – in San Diego and during a visit last week to Vancouver (read more here), so I didn't think this experience would be very different. And it wasn't that different from hearing the screaming fans at Comic-Con. It was just a lot more intense. It's one thing to be at a convention with 100,000 people who all enjoy different shows, but there's something far more intensified about being in a room with only a few hundred people who are incredibly passionate about one show. And people dress up far more for Supernatural cons than I ever saw dressed up for the panel at Comic-Con.
The audience at the con is also 99% women.
What was terrific about the con was that I had the opportunity to see several Supernatural actors I've never seen in person before. The guest list for the Toronto con consisted of:
Jensen Ackles (Dean Winchester)
Jared Padalecki (Sam Winchester)
Misha Collins (Castiel)
Matt Cohen (Young John Winchester)
Amy Gumenick (Young Mary Campbell)
Gabriel Tigerman (Andrew Gallagher)
Richard Speight, Jr. (Trickster/Gabriel)
Corin Nemec (Christian Campbell)
Traci Dinwiddie (Pamela Barnes)
Damon Runyan (Jenny's Boyfriend in Dead Man's Blood and Dream a Little Dream of Me)
Julian Richings (Death)
Elias Toufexis (Weber/Ansen Weems in Simon Said)
Clif Kosterman (Tiny in Folsom Prison Blues and Jared & Jensen's bodyguard)
Matt Cohen was a perfect person to open the convention and the person I was most excited about seeing, as I have never seen him live before. Not only is he ridiculously charming and gorgeous, he's an absolute sweetheart. Cohen preferred to walk around the room instead of remaining on stage, bringing the microphone right up to fans to ask a question and giving them a hug. Richard Speight loved to walk the crowd as well. Couple those panels with Traci Dinwiddie's suggestion we all engage in a little bit of tribal chanting along with her drum, and it's fun to see what an interactive experience the convention can be.
What actually surprised me was how many fans asked questions that didn't relate to Supernatural at all. I suppose that's not surprising for guest stars who haven't appeared on many episodes, but it was a nice departure. All of the panelists were happy to answer questions that were more of a personal nature, although most fans kept the questions respectful.
While all of the panelists were terrific, you can see which actors are even more outgoing and thrive in this kind of experience. Misha Collins wowed the audience with hilarious stories and a short reading of "Go the F**k to Sleep", which one fan brought along because Misha reads it to his son. Speight is terrific in a live setting, as is Cohen. Jared and Jensen love playing to the crowd, especially Jared.
Now, for a few spoilers. Honestly, there weren't a lot given during the convention, but I expected that would be the case. So many fans publicly mourned Castiel's disappearance from the show and while we all suspect Misha will be returning to Supernatural in its seventh season, he did confirm he won't be in any episode up to 7.10 (currently, episode 7.09 is shooting – with Guy Bee directing a Ben Edlund script). After their panel, Jared and Jensen returned on stage to auction off a special jar of "Winchester Brothers' Salt". Apparently, episode 7.07 will see the brothers engaging in a good old-fashioned hunt that involves laying down salt circles. Ahhhh….the good old days.
Speaking of auctions, the convention auctions are insane. The amount of money people spend on some of the auction items blew my mind. A banner of the Impala sold for over $500, for example. Fortunately, some of the items were auctioned off for charity, which I thought was a terrific idea with a worthy goal.
I brought two friends with me to the convention who had never been to Comic-Con or any other fan conventions. They were thrilled with the overall experience. We didn't get any photo ops or autograph sessions and limited our experience to the panels and chatting with other fans. But my friends loved the convention and laughed and cheered along with the audience. One of them even asked me "So, should we go again next year?"
For a first-timer, the convention experience was a great one and one that I hope to have again. You can view photos of some of the actors by clicking the arrows above.
Fans who have never been to a Supernatural convention before should definitely attend at least once. I think you might be pleasantly surprised by how much fun you have. And you never know, you may walk away with a prize at the Supernatural trivia contest like I did!