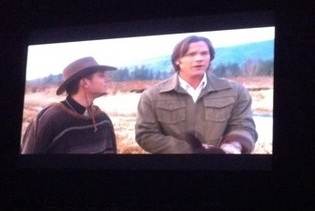 Lots of spoilers and tidbits came out of the Supernatural panel at PaleyFest yesterday, but what had fans very excited was the sneak peek the audience was treated to for the upcoming Old West episode, as well as some bloopers and extended scenes from the recent meta episode "The French Mistake"
Airing on April 22, the episode (which we believe is entitled "Frontierland") will have Sam and Dean sent back to 1861 Wyoming to track down the Colt and a mysterious creature named Phoenix. The shows stars, Jensen Ackles and Jared Padalecki, said that they had a great time filming the episode.
"The French Mistake" bloopers are featured at the beginning of the video below (after a short montage about season 6), while the Western episode sneak peek starts around minute 7:05 (the video was filmed by an audience member and posted to her YouTube). We initially see two men squaring off – a show-down at high noon, perhaps? One of them is Dean Winchester, who looks mighty fine as a cowboy. Then we see other scenes: the boys dressing up in Old West garb in preparation of being sent back to the past (with Sam looking pretty ridiculous), Dean wanting to check out the saloons when they're first sent back to 1861 and Sam stepping in horse poop. Poor guy.
Bobby, unfortunately, has to stay behind while the Winchesters head back in time, and we don't yet know if Castiel will be joining them, but we'll wager a guess that he'd stick out like a sore thumb.
Make sure to read our complete Supernatural PaleyFest write-up here, complete with spoilers for upcoming episodes.