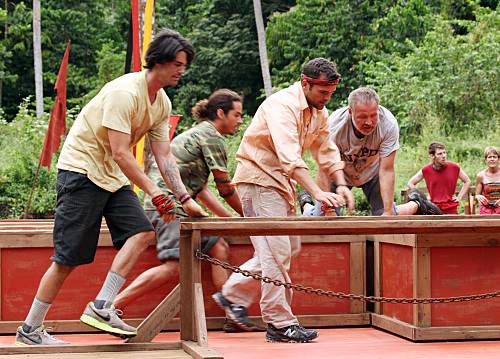 Welcome Survivor fans! If you missed last week's season premiere, catch up with my recap here.
The episode begins on Redemption Island. Semhar arrives and says she feels abandoned by her tribe. She doesn't understand how people can be so cold-hearted. She then does what she does best…recite poetry. Over at Savai'i, Cochran thanks everyone for keeping him. He confesses to going into fight or flight mode at Tribal Council, and he fought. He needs to chill out though, and change his attitude to best help the tribe, and stop drawing attention to himself. Ozzy identifies with Cochran's desire to play, but he needs to put in a better effort. Ozzy shares thoughts on Cochran with Keith, who agrees that Cochran should have an opportunity to prove his worth. Keith tells the camera that he likes Ozzy, and would normally want to align with him, but Ozzy has played before so he needs to be watched.
Day 4 at Upolu. Coach tells Edna he's getting some bad feelings from the girls, but she helped him out after the first Duel. Rick, Sophie, Brandon and Albert are in Coach's alliance, but Edna is a good friend. Coach asks her if Christine found an Hidden Immunity Idol, and she points out that Christine and Stacey have stopped looking so they might have found one. More importantly, that pair is quite tight. Edna confides that she is probably at the bottom of the tribe, so she has aligned herself with Coach. She promises that she is solidly with him, and as a result, he promises to protect her.
At Savaii, Cochran gets to work on coconuts. He needs his tribe to stop thinking of him as a liability. Ozzy says he's going fishing, but looks for the HII instead. He climbs in a tree over the water, and under a rock stuck in the branches. Lo and behold, he finds an HII!!! (I thought it was going to be hard to find them this season!) Ozzy figures that if he can make it to the Merge and then play his HII, he could make it to the Finals.
Brandon confesses that he wants to emulate Coach and play honorably, but he feels like a hypocrite as he's been lying about his uncle. It's tearing him up inside, so he confesses to Coach (and his blircle!) that he is Russell's nephew. Coach becomes very wary of Brandon because Russell had given Coach his word, then stabbed him in the back. Then again, Brandon had nothing to gain by telling him what he did, so he's good with Brandon.
Back at Savaii, Elyse is hungry and to catch some fish, she needs to channel her Native American ancestry. Jim goes fishing with Ozzy and Keith, which gives him a chance to enact his 3 + 2 Plan: an alliance of the three guys and Elyse and Whitney. Keith tells the camera that Jim's plan is funny because Jim has no idea that Keith and Ozzy already have an alliance. Jim says Cochran, Papa Bear and Dawn are the next to go.
Day 5. Upolu passes around coconuts before Mikayla goes fishing with Brandon. She says she is just a strong, solid person. Brandon, of course, can't stand Mikayla because she's evidently using her seductive ways to get attention. He calls her Parvati, and swears he will get her voted out of the game. Meanwhile, Christine tries to look for the HII clue. Sophie says she thinks Christine already has the HII, but Stacey says she hasn't told her anything. Christine goes back to where Stacey missed the clue, and finds it herself. Does she tell her tribe about it before they head to the…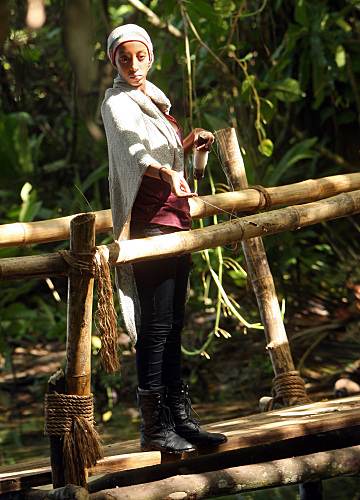 …Immunity Challenge. All of Upolu are eating some fruit as they enter to send a message to Savaii. For the Challenge, four members of each tribe will race to untie ribbons wrapped around a May pole, to release a set of keys. The keys will be used to unlock the other four members of the tribe. Those four players will move large crates in a puzzle to release the largest crate. The first tribe to get the largest crate on their mat wins Immunity, as well as a Reward of pillows, hammock, and blankets. Upolu decides Edna will sit out, and the players line up to start the Challenge.
All of the female players are on the poles except Cochran. Savaii has trouble unwinding the ribbons, letting Upolu take a huge lead, and releasing their keys. Stacey unlocks the Upolu guys to work on their puzzle. Dawn, eventually, secures Savaii's keys, allowing Elyse to unlock her tribemates. Savaii finally gets to the puzzle, and immediately start flying through it! Upolu falls behind quickly. Savaii comes from behind and releases their large crate. The first four members of the tribe help lift it onto their mat. "Savaii wins Immunity!" Jeff hand off the Immunity Idol to Savaii and sends them back to their beach. On Upolu's exit, Brandon admits they were overconfident, but now that they must face voting out someone, he will make sure Mikayla goes home tonight.
Back at Upolu, Coach congratulates the women for kicking ass. Christine thinks the guys could have moved faster. Coach tells his alliance that they should split their votes between Christine and Stacey in case one of them has an HII. Further, he informs his guys that Edna is loyal and not a threat, but on a need to know basis. In a quiet moment, Brandon tells Coach that he's uncomfortable around Mikayla; she reminds him too much of Parvati. Coach understands Brandon's concerns, but Mikayla is strong and needed for Challenges. "He has demons," Coach says of Brandon. Sophie doesn't understand why Brandon wants Mikayla gone because she's so strong. Moreover, as Sophie considers herself a strong woman, would Mikayla's ouster mean Brandon would want her (Sophie) out next? Coach confers with his alliance, but when Mikayla walks over, Coach asks her for privacy. Then Stacey comes over so he walks away. Albert tries to cover for the Dragon Slayer, by saying Coach is just being paranoid.
Christine asks Edna what's going on, and the latter responds that they were talking about Sophie, but Christine points out that Sophie was part of the conversation! Brandon tells Christine that he's voting for Mikayla. This makes no sense whatsoever to Christine; she must be the real target. As she's nervous about her place, Christine goes to look for the HII. Brandon approaches Coach and flatly lies to him by saying Christine and Stacey are voting for Mikayla. Coach confides that Brandon is making him nervous with his insistence in voting our Mikayla. Is Brandon loyal or not? Coach will find out at…
…Tribal Council. Upolu receives their torches and fire. Jeff asks Brandon if he thinks he made a good first impression. Yup because he is a hard worker. Coach, what was the tribe's first impression of you? Bad, he responds as he lost the first Challenge. Coach, unprovoked, then calls out Christine and Stacey for wanting to vote out Mikayla. The women, of course, deny this. "So glad you're back Coach," says Jeff. Coach wants Mikayla to stay because of her ability in Challenges. Mikayla doesn't get why she would be a target. Stacey says she never talked to Coach about Mikayla, and Christine says she never even said Mikayla's name. Who did Coach hear that from then?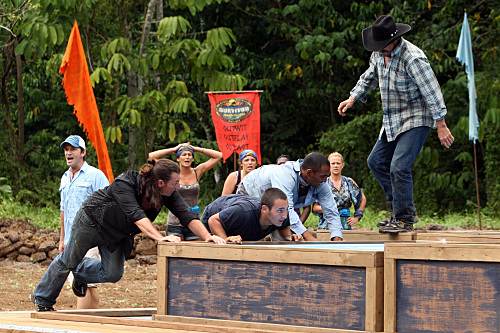 Albert sticks up for Coach, and says that the tribe's general dishonesty is coming from the HII. Coach says Christine went and looked for the HII a lot. Christine responds that, obviously, he's threatened by her. "He knows he's temporary," Christine states. Jeff wonders why Mikayla hasn't asked Christine and Stacey if they actually said they were targeting her. They deny the accusation again. All the while, Brandon has become visibly agitated. Noticing this, Jeff asks him if he has something on his mind. Brandon finally speaks up and admits he told them to vote for Mikayla. "Boom!" exclaims Stacey. "Welcome to Survivor," says Jeff. He asks Albert if it worries him that his tribe is in such disarray? He responds by saying that people are revealing themselves, despite how much they might try to hide it.
Jeff admits that he has no idea what will happen, but it's time to vote. They do, and Jeff grabs the urn. He asks if anyone wants to play an HII, but no one does. The first vote is for Sophie, the next for Edna. Vote Three is for Christine, and Vote Four for Stacey. Christine and Stacey each receive another two votes each, leaving them tied with three apiece and one vote remaining. "The second player voted out of Survivor: South Pacific…Christine!" Jeff snuffs her torch before Christine marches off into the Blue Light of Death. He notes that they are only five days in, yet already Upolu's biggest obstacle is trust. With that, he sends them back to their beach.
But Wait….There's More on Page 2!!