Everyone fights, and it looks like Edna will win the Duel!
What is there to say about this episode, really? It was no shock that Edna was eliminated. Edna was always at the bottom of the totem pole in her tribe and Sophie and Albert didn't see the value in moving against Coach as he had won Immunity. Brandon is a nutcase, but like Phillip last season, he is a perfect person to bring to the Final Three. I do wonder if Coach will keep his word as a "Christian man" to Ozzy…there doesn't seem to be much upside to bringing a guy with a number of his former tribe on the Jury and who will have defeated a number of people on Redemption Island. I guess his argument would be that he only wants to compete against "the strongest" players, but if I were him, I'd bring Brandon and Rick.
As far as next week is concerned, I expect that the winner of the next Duel will be brought back for the next Immunity Challenge as it will provide some interesting alliance dynamics. I know that the show teased Edna as possibly defeating Ozzy, but they did the same thing last week with Cochran. Moreover, the shot they used of Ozzy being nowhere near completed with the puzzle and looking over toward Edna could have been from at any point in the Duel. Most likely, the promo guys fished that clip out from earlier in the Duel to make the whole thing seem more dramatic. If not, well good on you Edna!
Odds to Win
Not much movement in the Odds this week. An expected elimination came to fruition,and Coach solidified his hold on the game. So, let's get right to it.
Coach: 4-1. What can you say other than the fact that Coach is most likely going to win Survivor: South Pacific? If the Duel winner doesn't return to the game before the next Immunity Challenge, Coach can only use his HII at the next Tribal council (the rules have always been that the HII can only get you as far as the Final Four), so he is guaranteed to be safe next week under that scenario. If Ozzy does return, he seems to have Ozzy's word that the latter won't vote the former out. Rick and Brandon certainly aren't going to vote for him, so there is practically no situation that doesn't see Coach into the Final Tribal Council. Once there, only a massively bitter Jury would vote against him, but is anyone there bitter toward Coach? Edna maybe (assuming she loses the Duel), but that's it. Let's face it, Coach has played a perfect game so far, and to be honest, he deserves to win.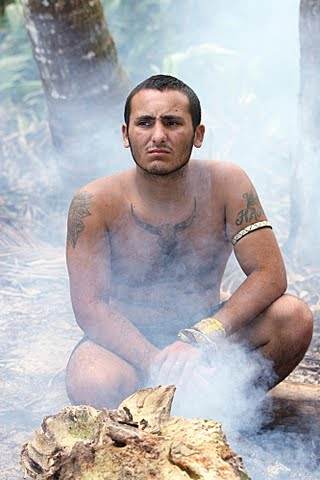 Sophie: 11-1. Sophie is the first of the also-rans. She may have the ability to win a few well-timed Immunity Challenges, so she could see herself into the Final Three. Though she likely won't be the next to go (See: Albert, below), she has to hope that the RI winner comes back before the next Tribal Council so she, Albert, and the RI winner can at least face down Coach's alliance 3-3. Otherwise, it will take that string of Immunity wins to get Sophie to the end.
Albert: 17-1. Absent an Immunity Challenge win of his own, I don't see how Albert isn't the next one ousted from the game. Coach likely seems him as a bigger threat than Sophie (it has been Albert always being caught plotting against Coach's allies) so he has no reason to keep Albert around. Like Sophie, Albert has to hope that the RI winner comes back immediately if he has any hopes of voting out Coach and making it to the end.
Ozzy: 20-1. First things first, as I said above, I don't see Edna beating Ozzy in the Duel, despite what the promo implied. Second, I don't think I trust Coach's word that he'll bring Ozzy to the end. There is no benefit to Coach in so doing. Third, I don't think Ozzy's social game has improved to the point where he won't trust Coach's word so it is highly likely that like Matt last season, Ozzy will return, only to be seen out immediately thereafter. Of course, Ozzy is always a threat to win an Immunity Challenge, so if he makes it back into the game he has a great shot to make it to the end, but if he loses that Immunity, I don't see how he sticks around. Yes, Sophie and Albert could try to team with him, but they likely think they don't want Ozzy to be anywhere near a Final Four Immunity Challenge.
Edna: 53-1. Let's call a spade a spade: Edna had no business getting as far as she did. I mean, I like her well enough, but as far as Survivor game play is concerned, she was the ultimate floater who was used as a vote for as long as she was useful. Absolutely, Brandon was a total jackass with her, and he deserved to be called out on the carpet for his actions, but he did speak the truth. And yes, the truth hurts. Edna could very well win the Duel, head back into the game, team up with Sophie and Albert, and maybe make it into the Final Three, but in my opinion, this is quite unlikely to occur. Though if it did, it would certainly give Edna a case to win over…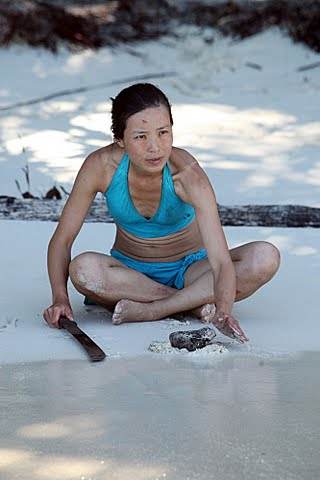 Rick: 79-1. What else is there to say about Rick that we haven't said over the previous weeks? As there were only six people left, the editors were forced to actually show him talking, but even then, it was only twice: once when seeing his wife, and once when criticizing Brandon. That was it! Again! Rick is going to make the Final Three, but he isn't going to garner a single vote.
Brandon: 567-1. Can we just get this guy off of my TV now? I mean, when even his father is essentially ridiculing him for being sooooo over the top with the religious stuff and not focusing on, you know, winning the game, you know the guy has some serious issues. If they are serious issues, then I hope he gets some help. Otherwise, I just want this dude off my TV.
That, my friends, is this week's Survivor. What did you think of the episode? Do you think Coach will actually bring Ozzy to the Final Three? Who will Coach target next? Is there any way he doesn't win the game? Please leave your questions and comments below. I'll be back next week with another recap. Until then, I'm off to order some Reese's peanut butter cups and fresh banana bread.
Follow: twitter.com/tvovermind
Follow: twitter.com/MikeNJD
Email: michael@tvovermind.com