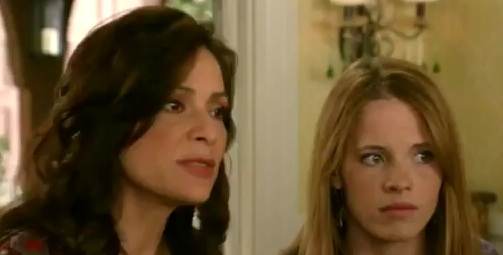 The new ABC Family show Switched at Birth premiered earlier tonight. After learning that their daughters had been mixed up shortly after birth in the hospital, the Kennish and Vasquez families were thrust into a pretty unusual situation. The two families could not be more different, with the wealthy Kennish family contrasted against the working class Vasquez family. And the two daughters – Bay and Daphne – are also different. Bay can be a sullen and rebellious teenager who is also artistic, while Daphne is athletic and has been dealing with being deaf since a toddler.
At the end of the recent pilot episode, the Vasquez family moved into the Kennish guest house after suffering a large financial setback. With the families in such close quarters, will conflicts arise?
In the next new episode of Switched at Birth, it looks like the parents are having a hard time dealing with the recent move. It looks like Kathryn and John want to become even more involved in Daphne's life, which continues to anger Regina, who wants to continue her role as parent in her daughter's life. But that's not the only problem…Kathryn seems convinced that Regina is hiding a secret. What could it be?
Below is a promo for the next new episode of Switched at Birth, which will air on ABC Family on June 13.
clarissa @ tvovermind.com
twitter.com/clarissa373
twitter.com/tvovermind