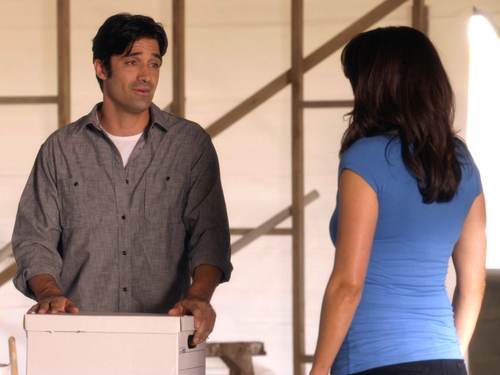 A few weeks ago, we had the opportunity to talk with Lizzy Weiss, executive producer of Switched at Birth. After watching the first two episodes since the January return of the show, Lizzy took the time to speak with us again, giving us an update on what's to come and sharing her thoughts on the family drama that has kicked back into high gear since the show's return.
Was Angelo Lying? Angelo's reappearance in Regina's life has had consequences for everyone. Daphne is clearly upset that he abandoned her and her mother when she was younger. Bay seems eager to get to know him, but Kathryn and John are very wary about his intentions. Daphne finally confronted Angelo in last week's episode and he explained why he left when she was a toddler. After some pushing, he did sheepishly admit that part of the reason why he left was because she had gone deaf. He was clearly ashamed at his own weakness. But when Regina later went to speak to him about a new business deal, he told that he had spoken with Daphne. Personally I took Angelo's "I explained that I didn't leave because of her" to be a bit of a lie, because he had admitted to Daphne that he did partly leave because of her illness. When I asked Lizzy about the discrepancy in Angelo's response, she thought my reaction was curious, although she did acknowledge it could be open to interpretation. But rest assured, the writers had no intention of calling Angelo a liar – at least not about why he left. "The intention in that moment was not to paint him as a liar. In his mind, that's how that conversation went."
The Business Deal: So if Angelo wasn't intending to lie to Regina, then that's a good thing, isn't it? Well, the situation isn't going to be smooth-sailing now that Daphne's gotten some answers. In particular, Regina is going to be in the thick of things now that she's accepted Angelo's business proposal, and there's going to be a lot of history that she'll need to fight to ensure she doesn't fall into old patterns: "Regina is being pulled by the old dynamic — their chemistry and their history. But she also continues to be protective of her daughter and what she means to her. It's going to continue to be a push-and-pull with Regina and she's going to continue to struggle with that. But they had this incredibly passionate relationship and with anyone who's been in one of those, it's hard to get out of an old pattern."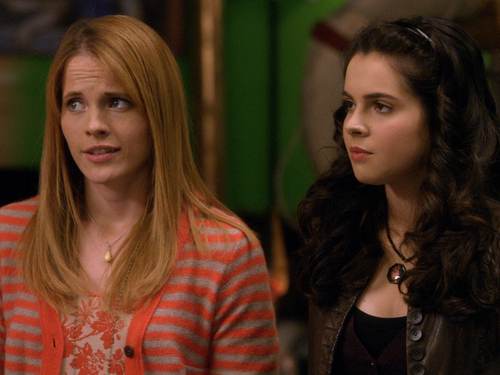 The Basketball Diaries: Daphne may or may not be able to come to terms with Angelo's confession from last week's Switched at Birth, but that's not the only issue she'll be dealing with. Her friendship with Emmett might be suffering as a result of her relationship with Bay, but it will be basketball that also continues to be important in her life. Now that she's been benched on the Buckner team (and apparently recruited so they could get a disability grant), don't expect her to be down for the count. "This is a big arc for us this season. It's a big John-Daphne father-daughter story."
Simone's Intentions: Simone has also come off as a bit of a wild-card, particularly because of how she might influence Daphne. We saw her skip out on a bar bill and she recently told Toby the truth about why Daphne was recruited to play for Buckner. What exactly are her intentions towards Daphne? Lizzy wouldn't tell us, but she did assure me that Simone will be a big part of the rest of the season. "Simone and Daphne is a friendship that we follow. We really want to give her a girlfriend in the world that she would have grown up in if she hadn't been switched. And Simone is a full, complex person who is not perfect, but doesn't have evil intention. She genuinely wants to be Daphne's friend and genuinely likes her."
Melody-Emmett-Bay: According to Lizzy, "the mother-daughter-boyfriend triangle continues to evolve and we have a lot more of Melody this season. Melody and Bay's relationship continues to grow with ups and downs. Melody sees how important Bay is to Emmett but she still doesn't think she's a good influence on her son, for good reasons as we saw in the last episode — she did get him involved in something that got him arrested." And don't expect that any repercussions from Emmett's arrest are suddenly over. There's still the matter of the $5,000 fine, which Melody confessed to Regina would be a problem: "$5000 to a middle class guidance counselor does not come out of thin air. That will be a challenge for the family."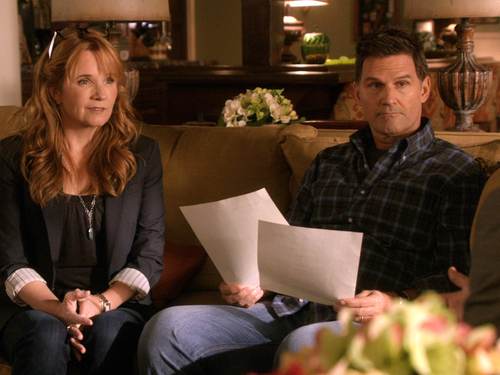 John, Kathryn, the Book & the New Lawyer: In the previous episode of Switched at Birth, the Kennishes fired their lawyer, Amanda, after learning that she was in a relationship with a member of the hospital board. While the decision was difficult for them given their history with Amanda, they clearly felt like it was the right thing to do. John and Kathryn will be interviewing attorneys in tonight's episode, which will bring some fresh blood into the show. In addition, Kathryn will definitely be going ahead with writing a book and the whole experience will be very good for her: "Kathryn is asserting herself as a person. The book is exciting for her. It's given her something for the first time since before she had kids that's separate from her family — being a wife and a mom. It's helping her grow as a person and it's going to lead her to new people and situations she never would have faced if she hadn't done it." But, be warned, there's going to be some difficulties ahead. Regina is definitely not on board with the book and it doesn't look like she'll be changing her mind anytime soon.
The PI Report: Of course, we asked Lizzy about the PI report that John and Kathryn discovered, which detailed that Angelo had dropped off the grid for several years. While she couldn't reveal why, she did tease that "we are going to find out why he was off the map. Everyone's response to that is going to be very different".
Don't miss an all new episode of Switched at Birth tonight at 8:00 p.m. EST on ABC Family.