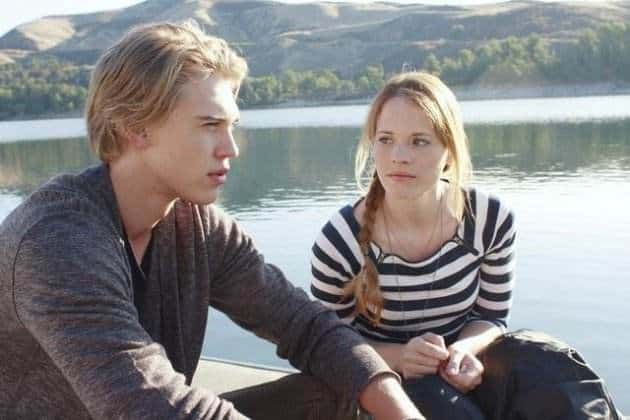 Switched at Birth fans have been waiting several months for the show to return after its summer midseason finale. The wait is over tonight when the ABC Family hit show returns with the first of 22 additional episodes ordered for season 1.
We've screened tonight's new episode of Switched at Birth and spoke with creator and showrunner Lizzy Weiss, who shared with us what's in story for the Kennish and Vasquez family as the show kicks back into high gear.
Fans may recall that the series' summer finale brought a few surprises, including the fact that Bay's biological father – Angelo Sorrento (played by Gilles Marini) – has decided to stay in town in order to get to know his daughter and also announced that he has a secret weapon in the Kennish family lawsuit against the hospital (the nurse who worked with the babies and can testify she was overworked at the hospital's insistence when the mix-up occured). In addition, Daphne has become increasingly more jealous about Bay's new relationship with her friend Emmett, while Emmett agreed to join Toby and Wilkie on a summer tour with their band.
When Switched at Birth returns tonight, only a little time has passed since the summer finale. The boys will soon realize that their grand summer tour isn't as grand as Wilkie had made it out to be and they're stuck playing smaller venues with little chance of exposure. Back home, Bay is eager to get to know Angelo, although John wants to make sure all of their interaction is supervised. Daphne is still angry about Angelo's exit from their lives when she was younger and is less eager to have him around, which puts Regina in a difficult spot and also causes a rift with Bay. Meanwhile, Kathryn and John will be arguing about how to proceed with the hospital lawsuit.
Daphne & Bay's Conflict: Daphne and Bay, in particular, are at odds in tonight's Switched at Birth, not only because of their mutual connection to Emmett and the jealousy that accompanies it, but also because of Angelo's reappearance in their lives. As I mentioned, Bay wants to get to know her biological father, while Daphne isn't so eager to forgive him for leaving when she was young. Showrunner Lizzy Weiss explained that Angelo is "…another source of both conflict and bonding. He brings up a lot of unresolved feelings for Daphne. And for Bay, she has to get to know this guy and come to terms with what he did to Daphne." However, while the girls so spend a lot of the episode at odds, there is still an undeniable connection between them, which will always shine through: "There's always points of intersection now that their families have expanded. They always go to each other as touchstones because they know they're the only ones who understand what they're going through. As much as they try to resist each other and try to avoid each other sometimes, they can't.'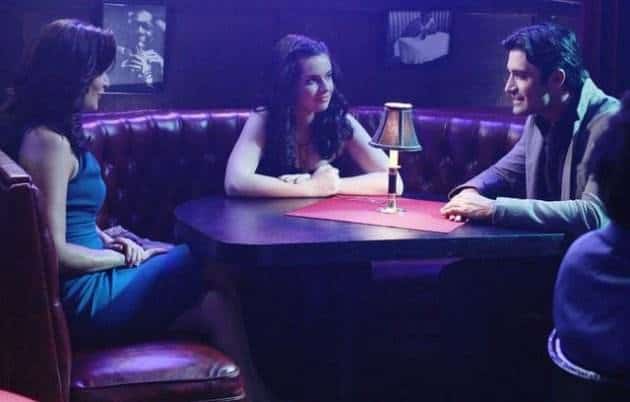 Angelo's Motivations: In speaking with Lizzy, I brought up the fact fans might question Angelo's motivations for staying in town. It's clear that he wouldn't mind getting the money from the hospital lawsuit, but are his feelings for Bay genuine? Lizzy was quick to point out that Angelo's desire for money is not necessarily a strike against him. As she explained, "His life was destroyed or went on a path that it never would have gone to because he thought [Regina] was having an affair [when Daphne was younger]. [The hospital] made a mistake and he wants compensation. It doesn't inherently make him evil to say '˜I deserve compensation for that'. As to whether or not his feelings are real – I guess it's a real question of how much he's willing to fight. I think for sure his feelings are real in that he feels guilty and bad about how things played out. But on the one hand he feels like it wasn't necessarily his fault. The girls were switched. He thought rightly that [Daphne] wasn't his and he made a logical assumption based on that, which was the only assumption anyone could make, which is that his wife had an affair. He did what a lot of people would do, which is leave. Whether or not he's willing to do what needs to be done with Daphne remains to be seen.'
Regina's Conundrum: The reappearance of Angelo has put Regina in a bit of a bind. Lizzy teased that 'She has to fight off some old feelings [for Angelo], but she does feel very protective of Daphne and has promised Daphne that she will not have him around if Daphne doesn't want him around, because he does upset her so much. She's in a sort of catch-22 between her daughter and her ex. And because Bay does want him around, Regina is being pulled in all sorts of directions.'
The Kennish Family Lawsuit: John and Kathryn's lawsuit against the hospital that switched the girls was reinvigorated by Angelo's announcement that he can produce a nurse who can testify to the hospital's negligence. But how will the couple handle this new development? Lizzy teased that '[John and Kathryn] will have very different ways of dealing with one of the twists of the lawsuit and it will drive a wedge between them. It causes them turmoil as they make some choices about how to deal with what they find out.'
Finally, we know that an unprecedented 22 additional episodes had been ordered when Switched at Birth became a hit, which means the first season will essentially consist of 32 episodes. In terms of the scheduling, Lizzy said it's likely that 12 episodes will air this winter and then the show will go on a short hiatus and return this summer.
Don't miss the return of Switched at Birth tonight at 8:00 p.m. ET on ABC Family. You can watch three sneak peeks for tonight's episode below.