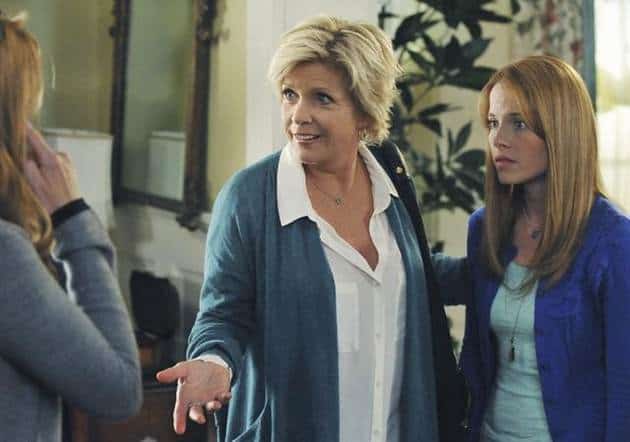 Last week's episode of Switched at Birth focused a lot on Angelo. First, he and Regina slept together after their kiss in the salon and Regina confessed to Daphne that she may never have fallen out of love with him. Kathryn also seemed to warm up to him after bumping into him at the farmers' market. She decided to invite him over for dinner and even Daphne seemed to accept his presence in the family. But a PI had finally managed to uncover the information Angelo was trying to hide: he was wanted in Italy after beating up a friend who had slept with his fiance. At first, Kathryn and John wanted to call the police and turn him in, but both Bay and Daphne talked them out of it. Later, Bay was shocked to learn that Angelo did run, because Regina's mother had turned him in to the police.
Daphne grew closer to Wilkie after the two went out on a date, although she did seem suspicious of his motives after she learned that he had a pattern to many of his dates with other girls. But he managed to convince her that he was a good guy in the end. Emmett moved into his father's place and he's a nice guy who was thrilled to meet Bay, which is certainly a change after her reception from Melody. Bay was also introduced to his young girlfriend, who was very nice but a little too liberal for Bay's tastes.
In tonight's all new Switched at Birth, Meredith Baxter (Family Ties), makes a guest appearance as Kathryn's mother and she is very eager to meet Daphne. But her presence makes Bay and Daphne wonder which family they really belong to. Bay and Regina will bond over their worry for Angelo and Toby gets a new girlfriend in Simone, who tries to change him.
Watch three sneak peeks below for tonight's all new episode of Switched at Birth, airing at 8:00 p.m. EST on ABC Family.