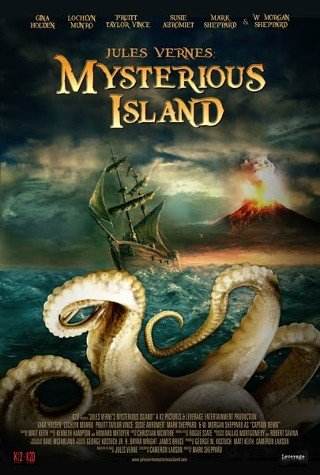 Earlier this week, on Jules Verne's birthday, genre faves Mark Sheppard and Gina Holden answered questions about tonight's Syfy original movie, Jules Verne's Mysterious Island. Sheppard directs and co-stars in this film adaptation featuring both he and his father playing the classic role of Captain Nemo (at different ages).
In a time when not every actor rushes to associate with sci-fi fare, Mark Sheppard's become closely associated with some of the genre's most beloved franchises. What does Mark find so appealing in the material? "It seems to produce some of the most exciting TV and films that are made." Sheppard elucidates, "Sci-fi just has that ability, and yes, I love watching and especially directing actors looking at giant octopuses that aren't there. It's a tough job and I think it takes a very special type of actor to be willing to commit to these kinds of things. And I think that's why Gina and the rest of the cast are very much loved by the sci-fi community. There's a commitment and love of the genre there, and you can tell, you can really tell. I remember when the Syfy Channel started out. Gina and I have both worked extensively on the channel and what's really interesting is their support of our genre – I think it's been so incredible. It's created a whole new way to experience these stories, you know, from the originals through the series that they've either bought or created, it's just fantastic and such a testament to the channel itself and the people that work there. They just keep making sure there's a hunger for sci-fi, you know."
"I think I'm always looking for great sci-fi projects." Gina confesses, "I've done a lot and I just think for me I'm drawn to them because of the imagination you have to use while filming. I'm kind of a weirdo that way. I just love the green screen. I love the challenge of working with things not from this world – that challenge is really exciting. I'm always excited when I get a new sci-fi project because they bring everybody together in ways that're just different than the dynamic in a drama or something like that." Filming on location can be a challenge all its own, Holden confides, "We shot Mysterious Island on this crazy location in the middle of a swamp in Louisiana, dealing with massive bugs and all those challenges but those are what kind of make it fun as well. As weird as that sounds, you just have to really pull together, dig deep and face your own fears." Adding, "I'm terrified of huge insects and things like that."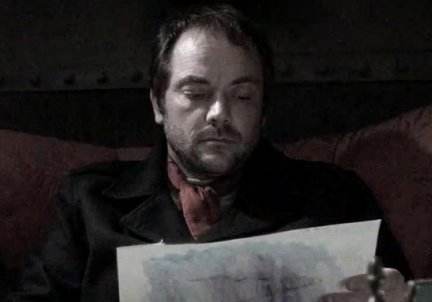 "I agree with Gina," Mark declares, "it's the imagination involved in sci-fi and fantasy that draws me to it. Every film is so difficult to put together but such a lovely group of people came together on this one, a great crew and a lot of people that really wanted to make this a labor of love. We had horizontal rain and heat beyond anything I've ever experienced before. The humidity was incredible. And then the chiggers, the gators and the nutria rats, the flora and the fauna of Louisiana, I mean it's a challenging place – I'm telling you. But it was an amazing experience. Making a film has its own inherent challenges but a lot of fantastic people wanted to get this thing done as best as it could be. The cast and crew were just fabulous. Gina made it so much easier for me too. That's one thing I could rely on, Gina at any given time, to just give me that extra thing. I could sit and watch Gina all day on film. She really is so lovely; it makes me happy. She's such a smart and funny and interesting person. She's just fabulous and so much more than the sum of her parts. Working with her was so much fun."
Holden reciprocates the praise, "It was so much fun being directed by him. Obviously he has so many fans from his acting projects but to see him step in and direct was really fantastic. You'll often hear from actors that when a really talented actor starts directing he's that much better just because he's been on the other side. So we connected right away – I can say that. I just trusted him from the start and we had a blast. We all really enjoyed working with Mark. And it was exciting to be a part of his directorial debut. He's special, you know. I'm very proud that I got to work with him and be directed by him."
While the filmmaking process is challenging in and of itself, Sheppard explains why this film in particular added an extra degree of difficulty. "Genuinely, I think this is one of the hardest of Verne's stories to bring to the screen because it's very long and very complex. I don't think anybody can really tell the whole story. We've really tried to stick to the spirit of Verne but it's always hard to take such a fantastic long novel and make it a piece of film entertainment. The trouble with adapting the great Verne stories is that somebody's always going to be a little upset by it. But I hope people enjoy our version, we truly tried to entertain and we've done the best that we can." Expounding, "In the lower budget side of filmmaking there isn't a lot of time to get things done and together. Weather conspires against you and things don't go to plan,… the real test at that point is do people just pull it out of the fire and give you everything they've got. Trust is a huge element in that I think. Everybody there was very, very trusting and I was honored to be trusted in that way. I tried not to mess it up."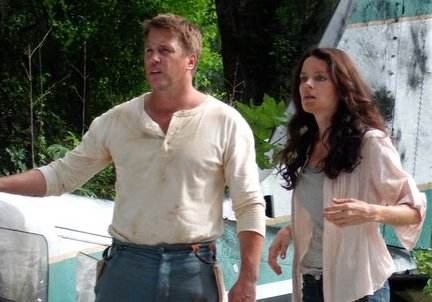 Though Mark Sheppard directs and co-stars in Mysterious Island, the main leads of the picture are Gina Holden and Lochlyn Munro. Gina describes how she identified with the role of Jules Fogg, "She's a modern woman. And though she finds herself amongst a bunch of different people, sort of in this Bermuda Triangle type of situation, she has to be a leader and take care of her younger sister and deal with a whole lot of adversity happening around her. Of course, for me, I identify with wanting to stay strong in tough situations and just – enjoying the ride. It was really fun being Jules and I always enjoy playing strong female characters. And I have to give a shout-out to Lochlyn Munro who I haven't mentioned yet, he was so great to work with. My character obviously has a lot of interaction with his character and we worked really well together. I also got to work with Mark's father, William Morgan Sheppard. Talking to him was fantastic. I would just sit and listen to him in awe – he's so knowledgeable and so wonderful. He's had an extraordinary life, an extraordinary career and shared amazing stories. He was just so wonderful to work with." "He's a lot of fun to play with," Mark affirms of his dad, "We take every chance to work together we can get."
Watch Mark Sheppard's feature length directorial debut, starring the beautiful and talented Gina Holden, Jules Verne's Mysterious Island tonight @ 9/8c on Syfy.