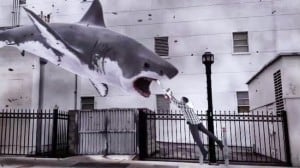 Listen, I know the Sharknado frenzy was fun, and half of the joy of it is just how awesomely bad it is, but what happens when it goes from bad to worse, and not in a good way? Over at TV Line today we learned that the Sharknado sequel has been officially named, and it is nothing if not underwhelming (and a might bit stupid). Brace yourselves for this, people. Things just went from bad to awful.
As many of you know, The SyFy channel told fans to take to Twitter to come up with a name for the inevitable sequel, and I was one of those people. Just one of the awesome names I submitted, for example, was:
Sharknado 2: Electric Boogaloo
The smartest of you know that's a riff on the movie, Breakin'. But apparently, SyFy channel doesn't have a great deal of 80′s breakdance movie fans on their staff, because out of all the majestic and wonderful names submitted, the name they chose is:
Sharknado 2: The Second One
Wait, REALLY? I can see that SyFy wants to be that cool "self aware" network, but now it just seems like they are not even trying anymore. That is not witty. That is not self-referential. No, that is purely lazy and stupid. And I saw some of the submissions. There were some genuinely funny submissions. But nope, SyFy wants to be the funny fat kid who snorts pixie sticks for attention, and it looks like we are giving them the attention they seek.
Sorry, I am a little bitter about this one. My name was WAY better than "The Second One".