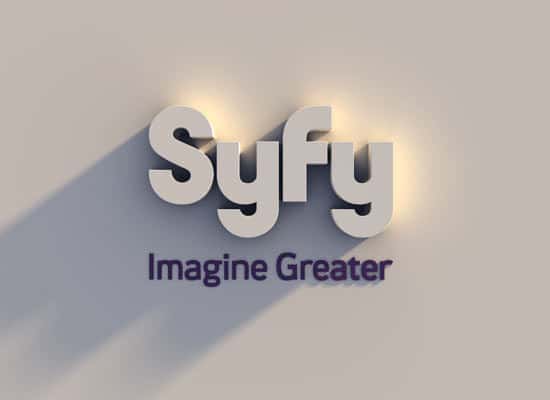 Syfy has officially released its full winter 2013 schedule, which includes the debut of four shows, the season premiere of seven shows, and two new TV movies.
On Friday, January 4th, the final series of Merlin debuts at 10:00 and while Arthur may seem to have control, Guinevere and the Knights of the Round Table on his side, Camelot has already begun crumbling around him. Monday, January 14th will see an all-scripted night, beginning at 8:00 with the U.S. premiere of Continuum starring Rachel Nichols. The series, which has already been renewed for a second season in Canada, follows Kiera Cameron, a cop that gets transported (along with a group of terrorists) back to 2012 from the year 2077. 9:00 sees the third season premiere of Being Human, which will feature Nora becoming a series regular character and guest appearances from Mark Pellegrino, Xander Berkley, and Amy Aquino. Following at 10:00 is the third season premiere of Lost Girl; Bo has held on to her neutrality through some serious pressure from both the light and dark fae, but will she have to make a decision in order to save herself?
Tuesday, January 15th finds two reality favorites making their return, as the fourth season of Face Off debuts at 9:00 with a 90-minute premiere. Emmy and Oscar winner Michael Westmore will be joining the show as a contestant mentor, while challenges will include the creation of two-headed giants, fantasy goblin kings, and original comic superheroes. Guest judges for the season will include Bryan Singer, Gale Anne Hurd, and John Landau. Meanwhile, Total Blackout begins airing a new string of episodes at 10:30 before moving back to 10:00 the following week.
Wednesday, January 16th is all about the paranormal, with the ninth season of Ghost Hunters premiering at 9:00. TAPS will be heading out to California to investigate before traveling to the Midwest to conduct further studies on haunted locations. At 10:00, Ghost Mine will be debuting; the show follows an abandoned mine in Oregon purported to be haunted that gets bought and reopened by a new owner. The group of miners assembled will be joined by a team of paranormal investigators looking to determine whether the mine is haunted and if they can do anything to free the spirits trapped inside. The two new January movies will be Tasmanian Devils starring Danica McKellar and Apollo Ohno, airing January 19th at 9:00, and Abominable Snowman starring Adrian Paul and Chuck Campbell, premiering January 26th at 9:00.
February will see the debut of two new unscripted shows, beginning with Robot Combat League on Tuesday, February 26th at 10:00. Hosted by Chris Jericho, the show features a tournament that pits eight foot tall humanoid robots against one another in three-round bouts; the robot will be controlled by one team member wearing an exo-suit, while the other team member is in charge of technical support. The following night at 10:00, Stranded debuts; the unscripted series finds teams of amateur paranormal enthusiasts dropped off in haunted locations around the country with only cameras attached to them to document the experience. The only other footage will come from security cameras planted in each location.
Finally, March 6th brings the third season premiere of Haunted Collector at 9:00 and more haunted artifacts that need to be confiscated by collector John Zaffis in order for people to have a normal life. Zaffis and his team will dig into the history behind the artifact and determine if they need to return it to its original owner, bury it, or store it at his paranormal museum in Connecticut.
Syfy Winter 2013 Schedule
Friday, January 4th
10:00 Merlin
Monday, January 14th
8:00 Continuum
9:00 Being Human
10:00 Lost Girl
Tuesday, January 15th
9:00 Face Off (90-minute premiere)
10:30 Total Blackout
Wednesday, January 16th
9:00 Ghost Hunters
10:00 Ghost Mine
Saturday, January 19th
9:00 Tasmanian Devils (movie)
Saturday, January 26th
9:00 Abominable Snowman (movie)
Tuesday, February 26th
10:00 Robot Combat League
Wednesday, February 27th
10:00 Stranded
Wednesday, March 6th
9:00 Haunted Collector