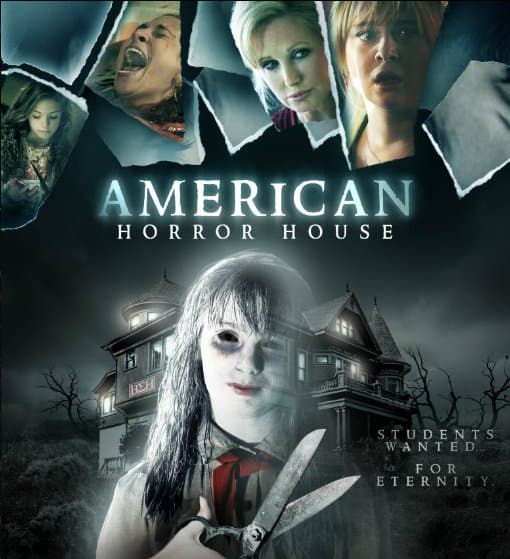 Syfy's 13th Day of Halloween proves dreadfully unlucky for the partygoers and sorority pledges in tonight's original movie, American Horror House. Morgan Fairchild and Alessandra Torresani co-star in this ghostly tale directed by Darin Scott (Femme Fatales, Dark House).
Last week screen icon Morgan Fairchild spoke with reporters about her wide-ranging career, this film and what it was like making it.
She began by revealing her fandom for these kinds of films, which was the primarily reason she agreed to play Ms. Margot here. "I must confess I'm quite a devotee of the Syfy movie channel. I watch Syfy movies on the weekends. I've always enjoyed these kinds of fun movies. Even when I'm not at home, my boyfriend knows to record their new nine o'clock movies for me every Saturday. I like monsters and ghosts and I'm a big vampire fan. I loved Dracula and Frankenstein and all of that. I still remember going to see Night of the Living Dead at a drive-in and it was the scariest thing I'd ever seen. It was so real, you know, the whole docudrama thing of it; it was such a breakthrough in filmmaking. I love monster movies – they're fun – and I enjoy doing anything that's fun. My very first TV movie was called The Initiation of Sarah, it was about a sorority house with an evil sorority queen. It sort of set me on my road to mean I guess." Continuing, "People have always loved to be scared. I mean, look how well Dracula and Frankenstein and The Wolfman did back in the '30s when there was a Great Depression. The two things you can always count on when there is a recession and people want to "escape" is that you're going to have comedies and horror films. Those are the great things that take people out of themselves and take them to another place. Not to negate all the great, wonderful, classic movies but if you get a well done horror movie or comedy, you know, they rerun forever."
Captivating Alessandra Torresani (Husbands, Caprica) co-leads American Horror House, playing sorority pledge Daria. I asked Ms. Fairchild to talk a bit about working with the spirited ingénue of the piece. "I cannot say enough good things about Alessandra. She is just an adorable and lovely girl. She was terrific to work with – which isn't always true of some young actors these days. She was a total pro and she's very good in the movie. Because we were shooting in Baton Rouge I, at one point, said to her you know you shouldn't be this close to New Orleans and not go – because she had never been. So there was one weekend we got in a car and drove to New Orleans, ate at one of Emeril's restaurants for dinner, hit a few clubs and stayed out very late. Then we got up the next morning and took her over to Café Du Monde for beignets and chicory coffee, which she'd never had before. And then we went over to Jazz Fest and heard part of Bruce Springsteen and Herbie Hancock and all of that. So it was a fun weekend. We had a really great time. Alessandra and I decided that we want to do another movie together that we can shoot in New Orleans next time, just so we'll be closer to the action and won't have to drive so far."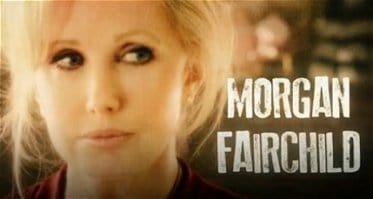 When questioned about the film's director, Darin Scott, Morgan shared, "Darin was just fabulous to work with. He was so sweet and very patient with everything, very on top of all the technical stuff that was going on, which we had a lot of in this movie, and just a lot of fun to talk to. We became friends just sitting around and gabbing during lunch breaks, talking about everything from politics to old Hollywood stories. I love talking to people and it's kind of sad these days because all the kids sit on the set and just text. They never talk to you. Alessandra didn't have much time because she was in every scene, but she talked to me. That's the way you used to make friends and learn things on set, was to talk to people. It was much more fun before texting came along."
One significant change Morgan helped bring about regarding how productions get made came through her co-founding the Environmental Communications Office. I asked if she takes pride in the knowledge that so many productions make efforts to be green these days, many even boasting about how green they are. "I am very proud of it." Explaining, "Back in the mid-'80s when Hollywood first started getting interested in doing things environmentally, the only two people that kind of knew anything really and were familiar with the issues – and I don't mean to sound condescending – were Ed Begley Jr. and myself. So we were the two that everybody would sit down with and take to dinner for EMA, for ECO, for all the different groups that we're getting founded. And yes, it is nice to see that there was actually some long-term effect. People really are much more conscious of it now, just in trying not to send out paper scripts for instance, trying to use both sides of paper if they're going to print, trying not to use Styrofoam if they can – just a lot of different things on sets. You see it all over Hollywood." Was this particular film green? "American Horror House was pretty good about it, but, everybody tries very hard in Hollywood now. I think the studios eventually got excited when they realized how much money it could save them."
Last month Ms. Fairchild attended Stan Lee's Comikaze to promote American Horror House, so, naturally the subject of 'The Man' himself came up. "Stan is just such a lovely man. That was actually the second time I've done Comikaze and he is always so very supportive and so terrific, obviously such a legend, a true icon. It's always fun to be around him. Everybody just livens up when Stan walks in the room. Talking to him there, he was asking about the movie and wanting to know all about it. The Comikaze thing is fun because I get to meet a lot of fans that I wouldn't necessarily run across in other kinds of venues. Comikaze fans are really devoted to their genres be it anime, cartoons, horror, slashers, all of that. And they're in such interesting costumes."
To be sure, many Comikaze fans enjoyed Morgan as Dr. Honey Woodcomb on the TV series Chuck. Addressing her role on Chuck, Fairchild offered, "She was a fun character and that was just such a great and fun cast. Anytime I was there I knew I'd have a wonderful time at work. Zach [Levi] is a lovely young man and everybody there was so talented. I really enjoyed working with everybody there. I was disappointed I didn't get to go back and do a little more as the show was winding down. I was hoping to have some real knock down, drag out grandmother scenes with Linda Hamilton."
[Spoilerish Info Follows]
Ms. Fairchild also responded to questions probing her character's past history with the house in American Horror House and the acting challenges presented by her character's duplicitous part in its murderous story. "She definitely does have a history with the house, and figuring out her history with it is a big part of the story. It's pivotal in trying to understand what's happening and what's really going on as the girls are confronted with different odd incidents in (and around) the house. Like a lot of the characters I play, she's sort of the catalyst. Of course, the "bad guy" is always the catalyst. So she's not unlike some of the other characters I've played except that she does seem to be just pure evil."
Inhabiting characters has certainly been a cornerstone of Fairchild's acting oeuvre, but was playing the "evil bad guy" any more challenging for her here? "You know, they're always challenging. For Ms. Margot in this film, the thing I didn't want to do was tip it too early. Because at first she seems a supportive house mother, you know, the sort of normal everyday thing that a kid would encounter at college. So not tipping it too soon was a bit of a challenge. And, just trying to play things in ways that people could go back later and say, "Oh yes, I see that," but that, at the moment, they don't necessarily catch onto right away."
[Spoiler Info Over]
In conclusion, I've got to say I felt immensely privileged and honored to get to interview Ms. Fairchild. So many wonderful areas were touched upon – everything from how her appreciation of Bruce Lee's Chi inspired her to study Kung Fu (in NYC's Chinatown for years), to stories about her work and friendships with the likes of Jane Wyman, Vincent Price, Natalie Wood, Roddy McDowall, Robin Williams and Betty Davis (to name just a few), fashion designers such as Versace, Dior, Valentino, Ralph Lauren, Marc Bouwer, and, photographers who've shot her including David Bailey, George Hurrell, Robert Mapplethorpe and Mike Ruiz (Ruiz being the photog responsible for the pic she currently uses on her twitter profile).
If you're a fan of Morgan Fairchild's, the always magnetic Alessandra Torresani's or if you simply love bloody horror flicks, make sure not to miss tonight's chilling spine tingler, American Horror House @ 9/8c. Part of Syfy's 31 Days of Halloween.