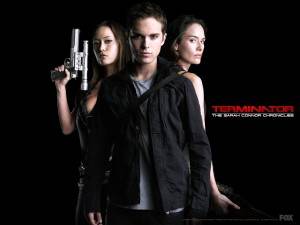 A lot of fans may have been disappointed when Terminator: The Sarah Connor Chronicles was canceled by FOX, especially since the second season finale was such a cliffhanger. I was dying to know what would happen next, but we probably never will.
Despite that, Syfy has announced that it has acquired the rights to all 31 TSCC episodes and plans to air them on the network. The series will premiere on Syfy on Thursday, April 7, with two episodes beginning at 9:00 p.m. Terminator 3 will air as a lead-in to the premiere on April 7. The show will then air during its regular time-slot on Thursdays from 7:00 to 11:00 p.m. With four hours airing every night, fans who missed the show should be able to watch the entire series within a few months.
If you're unfamiliar with the series, here's some information from Syfy.
Terminator: The Sarah Connor Chronicles brought the blockbuster Terminator movie franchise to television in an action-adventure drama taking place after the events of Terminator 2: Judgment Day. The series reveals what happens when Sarah Connor (series star Lena Headey — upcoming Game of Thrones, 300, The Brothers Grimm) stops running and goes on the offensive against an ever-evolving technological enemy. At the end of Terminator 2: Judgment Day, Sarah vanquished the Terminator sent from the future to kill her teenage son, John. Now Sarah and John (series star Thomas Dekker — Heroes) find themselves in a very dangerous, complicated world. Fugitives from the law, they must evade pursuers from the future and the present in today's Los Angeles, relentlessly battling to save more than just themselves.
Terminator: The Sarah Connor Chronicles ran for two seasons (2007—09).
Lena Headey, Thomas Dekker, Summer Glau, Brian Austin Green, Garret Dillahunt, Shirley Manson, Leven Rambin and Richard T. Jones starred in the series.
clarissa @ tvovermind.com
twitter.com/clarissa373
twitter.com/tvovermind