Tonigh
t Eddie McClintock (Warehouse 13) stars as Sheriff Michael Samuels in a Syfy original of biblical proportions. Written by David Reed (Supernatural, BSG) and directed by Jefferey Lando (Thirst, Goblin), Boogeyman takes the storied myth to unexpected places and with McClintock front and center, delivers a genuinely fun 'n wild ride. Joining the mayhem are soap opera icon Emma Samms (General Hospital, Dynasty) and engaging newcomer Amy Bailey.
An ancient creature, known to urban legend as the Boogeyman, sets its sights on an innocent child but unfortunately for him, the kid he's targeted is one of Sheriff Samuels' sons. Last week Eddie, back from hiatus and now shooting Warehouse 13's last ten episodes of the season, graciously answered questions about this scarer while on brief break from a [typical] sixteen-hour day.
This reinterpretation of the infamous ghost story earnestly combines horror, laughs and heroics in the vein of Sam Raimi's beloved collaborations with Bruce Campbell. Subtle nods to Bruce Campbell in McClintock's sheriff character are definitely deliberate, "In the trailer when I say, "Let's Boogie!," that was a little shout-out to Sam Raimi and Bruce Campbell." Campbell and Evil Dead II can, in a sense, be given credit for McClintock's interest and pursuit of acting. Eddie recalls, "A bunch of the guys on my wrestling team had seen Evil Dead II and they came back saying, "If anyone's going to love this movie, Eddie, it's you. You have to see this movie!" And this was before I had seriously thought about acting. When I saw Bruce Campbell doing the things he did, being able to make me laugh in one moment and feel sheer terror in the next, I just thought that was an amazing ability. So he was kind of my inspiration, along with my dad."
Fans of McClintock's acting won't be surprised to learn he studied under one of the craft's very best. Humbly divulging, "For many years I worked with acting coach Ivana Chubbuck. Charlize Theron and I started out together with her, and she also coached Halle Berry. Halle, Charlize and Elizabeth Shue all thanked her when they won their Academy Awards. She's a great coach!" So which lesson from the Master most influenced McClintock's approach? "She taught us to use real circumstances and situations from our lives and substitute them for what the character is going through. So most of the time, I'm just reliving things that've happened to me in the past. It doesn't even have to be in the same context of whatever the scene is, as long as it gives you an emotional response. It's a lot about substitution." Sense memory can't help when playing death scenes, can it? "When you're dying, it's your job as an actor to try and get to the place where you feel you really would be in that moment. Would you be panicked? Would you be clear? I'd like to think there are no moments that I could not play if I needed to." Learn more from Juilliard's Guest Master in her book on acting technique titled, The Power of the Actor.
Agent Lattimer's death scene in Warehouse 13's recent premiere was both impressive and emotionally powerful. "A lot of people think that was the strongest thing I've done on the show." McClintock reveals, "I get inspired from favorite films that I've seen before. There's a scene where Johnny Depp gets killed in Platoon I used part of for that one. And a bit from Giovanni Ribisi's death scene in Saving Private Ryan; I just thought he was so amazing and so strong in that, being able to be strong in the face of death." Asked to name some of his favorite horror movies, his short-list includes, "The Night of the Living Dead, The Hills Have Eyes, Creep Show, Dawn of the Dead and I loved Friday the 13th. That movie scared me so badly my dad went to see it on his own just to find out what it was that scared me." What was it about Carpenter's slasher that disturbed young Eddie so profoundly? "It was Jason's mother that scared me, because it's the guy's mom, it's not a monster, it's a person and she's talking to the moon? That scared me."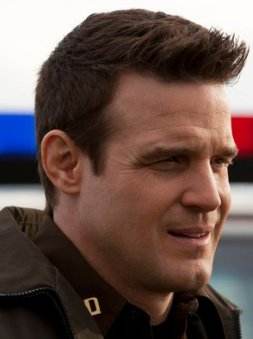 Having grown up loving Universal's vault of classic horror films, McClintock spent many Friday nights watching creature features on TV with his dad. In Boogeyman, he draws on those warm memories and his long held love of the genre. "For me to do one of these movies, it needed to be more of a straight up horror film like what I grew up with." Stressing, "This is a scary horror film but I also want everyone to know that we weren't taking ourselves too seriously – a running through line for most jobs I do. Our director gave me carte blanche to add my humor and silliness to the mix and fortunately there were chances for me to, in my own way, give shout-outs to Bruce Campbell and Sam Raimi. Some of the best memories I have of growing up are of staying up late with my dad and watching these kinds of movies, so when I had an opportunity to do one for Syfy I jumped at it. I'd like to possibly give some little kid who loves scary movies a chance to have a good time with his family, his brothers or his dad or whoever."
I asked Eddie to talk about his lovely co-star and onscreen partner, Amy Bailey. "She was amazing. I think Amy's really talented. She lives in the UK, is a former ballerina and is one of the sweetest ladies I've ever met. She's great, I think you're going to see more from Amy Bailey." Adding, "Emma Samms, who is kind of a television legend in her own right, came over and helped us out too. We all got along and had a lot of fun. The whole cast and crew were so great. We all had a good time and it shows. Enduring the dead of winter in Bulgaria, where we filmed this movie, you either become bonded very quickly or you learn that you can't stand each other very quickly and luckily we all bonded."
Thanks to Warehouse 13, Syfy's all-time most successful show, fans have grown to know and love McClintock for his kind heart, unguarded honesty, and ability to make almost anyone smile. His love of family and strong spirit are in full effect here, and though his character (Sheriff Samuels) confronts horrors both real and supernatural, fans may tune-in just to see Eddie play a protective single father of two "ornery" sons. McClintock shares, "If you're a fan of a little bit of guts and a little bit of glory with laughs, then I think this movie's for you. It's not one of those movies that just scares you to death. This is more about bump scares and chuckles from me and the boys. It's pretty tongue-in-cheek, really. Warehouse 13 fans get a little bit of everything in each episode and hopefully we were able to give the viewer a little bit of everything in this movie too."
Don't miss Syfy's original movie debut of Boogeyman, hitting screens and causing screams tonight @ 9/8c. Check out its official trailer below and don't forget to check-in at GetGlue for its Coming Soon and Premiere stickers here.