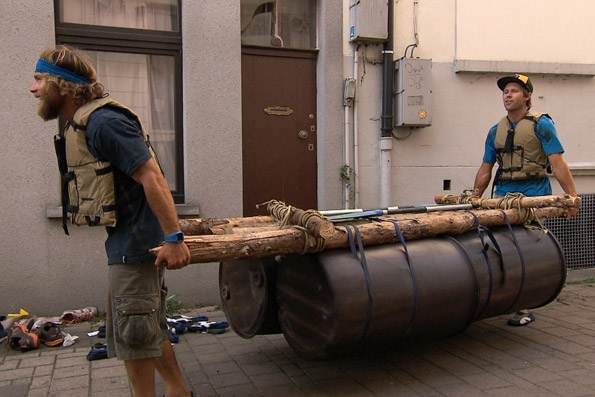 Since the dawn of time (or, well, season 1), The Amazing Race has always let luck creep into the equation, sometimes to its detriment. To be able to prance on the lawns of America with Phil Keoghan at the end of an around the world journey, one typically has to have some mixture of tenacity, intelligence, and versatility, with a healthy sprinkle of luck for good measure. While earlier seasons emphasized the first three pretty heavily, allowing the last to assume its necessary and natural role when need be, recent seasons have seen the importance of cab drivers eclipse the importance of just about anything. Who you get to drive you around a gorgeous foreign city can sometimes be the deciding factor in a leg, something that has stretched into finals and cost teams hundreds of thousands of dollars.
It may not have been a final, but luck was a major player in "We Are Charlie Chaplin", the penultimate episode of The Amazing Race's 19th season. After accumulating a couple of cars, a ton of cash, and numerous vacation packages from Travelocity, snowboarders Andy and Tommy crashed hard on the leg before the finals, bowing out in fourth place. Before tonight, the two had won six legs despite a race with noticeable errors; several of those winning legs were the result of other teams with penalties, teams making mistakes and having to go back, and legs almost specifically designed for them, an incredible string that came to an end tonight. What ended the run of Team Jesus, pray tell? The fact that their cab driver wasn't besties with the other three cab drivers, as the other three continually shared information with one another while the teams were in Panama. Andy/Tommy had a big enough lead where they very rarely interacted with the other teams, which cost them when they mishandled the clue on where to find the pit stop.
Andy and Tommy's elimination brings out both good and bad aspects of The Amazing Race, as it livens up a dull season with arguably the first surprising elimination we've had and demonstrates how the show is too dependent on luck. (In this case, luck of the draw regarding cab drivers.) Admittedly, part of me thinks that it's luck/karma catching up with them, especially after the decidedly unchristian and outright nasty way they talked to Sandy on the heights roadblock, but as happy as I was to see the two eliminated, it still felt a little cheap to me. Granted, it's not outside the realm of possibility on a season of The Amazing Race like season 19 has been, but it's yet another case of the show allowing luck to become the deciding factor over skill. Andy and Tommy both made their fair share of mistakes during their time on the race, including tonight's misread of the Adventures of Tintin clue, but if they had to go out, it would have been more fair/gratifying to go out because of factors other than cabbie collusion.
Last season, I made mention of the fact that I hated when the contestants allianced up in order to bump off the Cowboys and having the three cabbies join forces isn't much better. I mean, there's less obvious conspiring in this case, but it doesn't take away from how tonight's elimination felt manipulated to death. A cab driver should contribute to the leg but not be the deciding factor as to whether a team gets eliminated; the show gets way too involved with itself regarding manipulating the teams, so it's strange that they're allowing something so vital to play such a big part in who wins this thing.
(Tin Hat Theory: The Amazing Race totally knew the three cabbies would share information and they did it to generate buzz for the finale in a "let's bump off the frontrunner" kind of way. Discuss.)