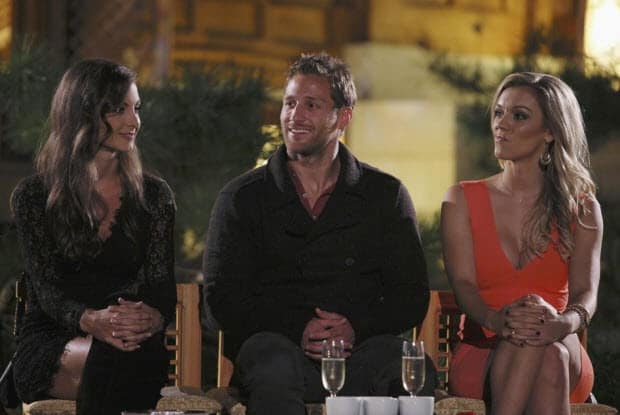 Week 4 of Season 18 of The Bachelor has come and gone. This week we saw Elise and Lauren denied a chance at love with Juan Pablo leaving 11 women left. There's been some major developments (like Nikki turning into the devil) that have shaken up our weekly Power Rankings.
Here's the Week 4 Rankings of the remaining women on The Bachelor:
11.) Kelly – As I was watching this latest episode it was clear to me that Kelly is out. I thought Kelly was out the week before. And the week before that. How is she (and Molly) still around? She's done nothing nor brought anything positive to the table. All I can say about her is that she is further evidence that Juan Pablo may be a brunette guy.
10.) Danielle – Pretty soon I'm going to start to think Danielle has a chance to be engaged at the end of the season because like Kelly I have absolutely no clue how she's still around. Has Juan Pablo even talked to her? Let's hope next episode she gets some burn.
9.) Nikki – I am shocked. I didn't think Nikki was going to be the problem child when she first went on the show. Well, we know how this (Tierra-like) story ends. The girl that everyone hates never wins… or does she. Right now, I don't think Nikki has any shot despite winning two group roses. Her true colors will come through eventually.
8.) Renee – I love Renee. She actually looked the best she's looked on the show this past week. Unfortunately, I don't think she has Juan Pablo's look. (Plus no kiss) I'm still hopeful, but she's not the young, spunky, hot piece that Juan Pablo probably is looking for.
7.) Alli – I've been patiently waiting for Alli to make a move. Alli is the underdog in the competition. She's good at soccer. She's cute. I just don't know if she's done enough to grab Juan Pablo's attention. Come on Alli – step up.
6.) Chelsie – Bungie-jumping Chelsie is hanging in there at six only because there are 5 other girls I think have less of a chance than she does. They had a great solo date, but I'm not sure Chelsie is going to have what Juan Pablo is looking for to make it to the end.
5.) Kat – Why is Kat 5? Because Juan Pablo has proved he's not the sophisticated father looking for a true mother and partner for the rest of his life. Let's face it – Juan Pablo's been a let down and that is why Kat is 5. That is suppose to be a slight in Kat's direction in every way.
4.) Clare – Clare seems to have a lot of potential in my eyes with Juan Pablo. Potential to be the basket case that gets her heartbroken near the end of the show. I can see this one coming a mile away. She's good enough to get to last 5 or so though.
3.) Sharleen – The anomaly. I think Sharleen has Juan Pablo's full attention. She has from day 1. He seems to be enamored with her. I think eventually their personalities will clash, but don't be surprised if she's in the final two. For some reason, and I don't know why, Juan Pablo loves this chick.
2.) Cassandra – Cassandra seems to be a solid bet. I do wonder if Juan Pablo has concerns about her age and the fact she's a jersey chaser. Don't act like you didn't Google her baby-daddy is Rodney Stuckey of the Pistons the same Pistons she use to cheerlead for. I'm sure it was love. Uh huh.
1.) Andi – Listen, Andi is the best bet. Period. She's smart, funny, attractive, STABLE. She seems to be the best package of all the chicks. I wouldn't be disappointed if she wins – she has Bachelorette written all over for her.
Revisiting something I said yesterday – how disappointing is Juan Pablo turning out to be as The Bachelor. The guy is a walking contradiction and just weird. I hate his vibe. I'd be willing to bet anything his engagement doesn't last..
[Photo via Christopher Jue/ABC]