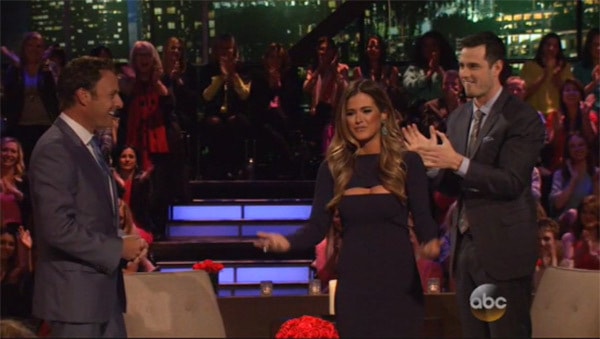 As expected, Jojo Fletcher got the boot on last night's The Bachelor finale.   But what was completely unexpected was the announcement Chris Harrison made. Caila Quinn is not the next Bachelorette. After weeks of rumors that the 24-year-old daughter of Step 2 CEO Chris Quinn would headline the next season of ABC's romance-themed reality show, host Chris Harrison announced that Bachelor runner-up JoJo Fletcher got the gig instead.  Quinn even went so far as to tape her Bachelorette opening package.  But apparently producers had a change of heart at the last minute.
So what happened?  Why the sudden change of heart?  Apparently fan reactions had a lot to do with it.  Surprisingly there was a lot of negativity on social media.  Most people were complaining that the sales rep would be too boring.  Here are a few tweets:
If Caila is the next bachelorette I will never watch another bachelorette season in my life #TheBachelor #thebachlorette

— Jessica Barkeley (@jbarkeley) March 5, 2016
@BacheloretteABC Caila will be one boring and confused Bachelorette! 👎☹ #not watching

— Christine Chaos (@ChristineChaos1) March 5, 2016
If the #bachelorette is Caila, I will never tweet about this show again. #TheBachelor

— Ashley S. (@AshleySpivey) March 15, 2016
If you recall, ABC's Paul Lee had predicted that The Bachelorette would be more "diverse" this year.  The entertainment ABC boss even went on record saying that he'd be surprised if the next season of The Bachelorette weren't more diverse.  In addition to Quinn, there was even buzz that Jubilee Sharpe, a Haiti native and military veteran dumped by Ben Higgins earlier in the season, might headline the next season of the realty dating show.
But ultimately they decided to go with the pretty faced Texas native in JoJo Fletcher.   So how is Quinn reacting to the news?  She's taken the high road. "Congratulations to these beautiful girls!" she captioned a throwback photo of Fletcher and winner, Higgins' fiancee Lauren Bushnell. "Sending love as the journey isn't over, it's only just beginning."
What do you guys think? Do you believe that Quinn should have gotten the gig or Jojo? Personally I think JoJo will be the more entertaining star of the next Bachelorette. Nothing against Caila and I don't think she's necessarily boring but JoJo is definitely going to get better ratings which is what it ultimately comes down to for ABC.