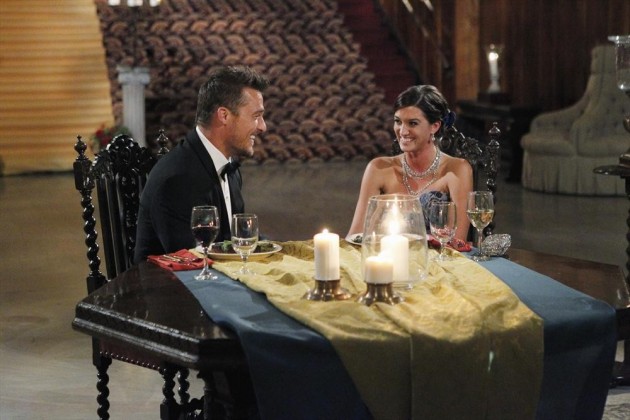 Tonight's episode of The Bachelor was less fun and more drama, and surprisingly, a lot of came from Chris Soules' actions rather than the girls'. For the first time, I thought Chris was less than charming, and missed the mark a little bit.
I thought he made a huge mistake by sending Jillian home; a huge mistake. Jillian was both beautiful and smart, outgoing and engaging, but she also was super nervous and hadn't really had enough time with Chris to really make her mark. I thought that, though he didn't like their date, he should've given her a rose anyways so that they could have more time to get to know each other.
But really, I'm just disappointed that Britt and Jillian are split apart. Heartbroken. #Brillian was a beautiful friendship and I am crushed that they were torn asunder. Hopefully, if Britt doesn't win, she and Jillian will hook up again. They were the best part of the last two episodes.
Now, the thing about this episode was that Chris's sisters came on and picked his one-on-one date. It was kind of weird and off-putting, because duh. But I thought their choice of Jade was interesting, because she has gotten virtually no screentime in the first few episodes. Jade turned out to be very interesting and a worthwhile choice, but unfortunately her date was overshadowed by the incredible amount of cross-promotional product placement for the movie Cinderella. ABC is owned by the Disney Company, so it makes sense, but Christ Almighty, the whole thing was a Bud Light commercial played straight. They made Jade a dress and the designer said that she got inspiration from the movie (then showed a clip of said movie). Chris even mentioned the movie BY NAME and kept saying fairy tale, at least a thousand times, and they even had a glass slipper along with the rose. Then, after he gave her the rose, they went ballroom dancing, while a clip FROM THE MOVIE played on a giant screen next to them. We then got to watch a quick clip. Then, the commercial break after was ANOTHER clip of the movie
It was exhausting. And trust me; I am not someone is up in arms about that stuff. I think it's absurd to get up in arms about those things usually, but this was basically someone holding a beer can with the label facing forward into the camera for ten minutes. It was embarrassing, and took away from the episode.
But anyways.
There was a lot to like this episode. The sight of the women supporting Jade after she won the one-on-one date was legitimately cool, as well as after the rose ceremony when Chris and Juelia had their talk. Mackenzie has grown on me because she has been so supportive, as well.
Also, it was really interesting to see how Britt called Chris out for what she saw as bad behavior. It was a really bold and ultimately very bad idea that led to Chris letting her sweat it out to the last rose. I don't agree with her stance, mainly because the implication of someone getting nude automatically turns them into some sort of boogeyman. Chris's reaction was pretty priceless, because he basically pointed to the door.
That's it for this week, I suppose. More drama coming. Favorites are holding strong.
"Favorites." Christ. I really have bought into this, haven't I?
Front Runners: 
1. Kaitlyn
2. Mackenzie
3. Britt
4. Megan
5. Carly
Stray Thoughts: 
– Kaitlyn won another rose, which is great. She is growing on me; she has the most developed personality shown so far (the show made sure of that), and there is real depth to her. I've been really impressed.
– Ashley I. is sticking around, by the skin of her teeth. She revealed to Chris her virgin-ness and freaked out about that for at least fifteen show-minutes, which meant she freaked out for at least three hours. I want her to stay because I think she's interesting, but the show is doing her no favors by only portraying her in a "negative" light.
– Jillian, you deserved better. You are a cool human being.
– Kelsey, you are the worst.
– Looks like some STEAMY STUFF IN THE NEXT EPISODE YEAAAAHHH, but seriously it was a little unsettling. Stay tuned friends.
[Photo via ABC]