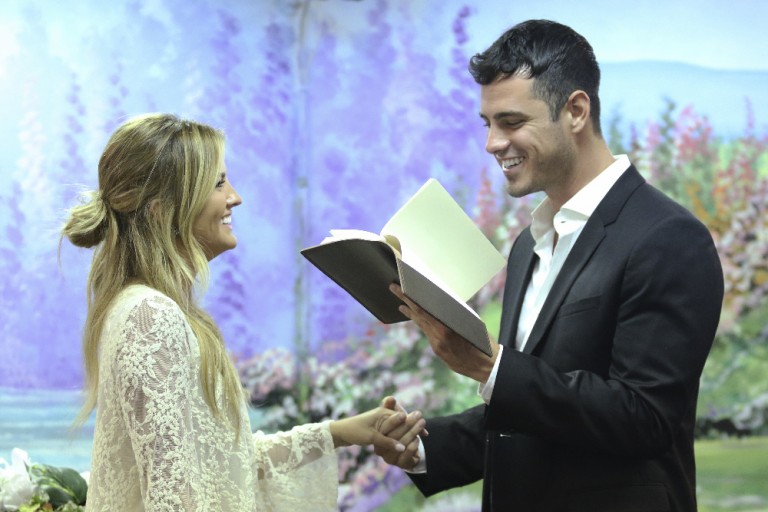 Ben may be taking a bit of gamble when he brings the 14 remaining women with him to Las Vegas in tonight's episode of The Bachelor. However, could "luck be a lady" for the bachelor? From the look of these sneak peek photos of Ben's date with Becca, that very well could be the case.
As you can see in the photos below, Ben and Becca visit a wedding chapel in Sin City for their date, but it's not their own wedding bells that are ringing. It appears that the two of them will be helping to officiate other couples' Las Vegas nuptials, assisting Elvis and Co. at the "Little White Wedding Chapel." But even though Ben and Becca aren't tying the knot just yet (we've still got several weeks to go before Ben makes his decision), being around so much love throughout tonight's The Bachelor will definitely bring them closer together.
Additionally, tonight's two-hour episode will also feature Ben going on a "special date" with the twins, Haley and Emily, but it remains to be seen which of the two sisters he'll form a better bond with. Meanwhile, Olivia's "annoying habits" continue to cause major issues with all of the other women on the show. Will her behavior lead to her packing her bags and heading home, or will Ben be able to overlook her flaws? We'll have to wait and see.
A new episode of The Bachelor airs tonight at 8 p.m. on ABC. Check out photos from tonight's episode below: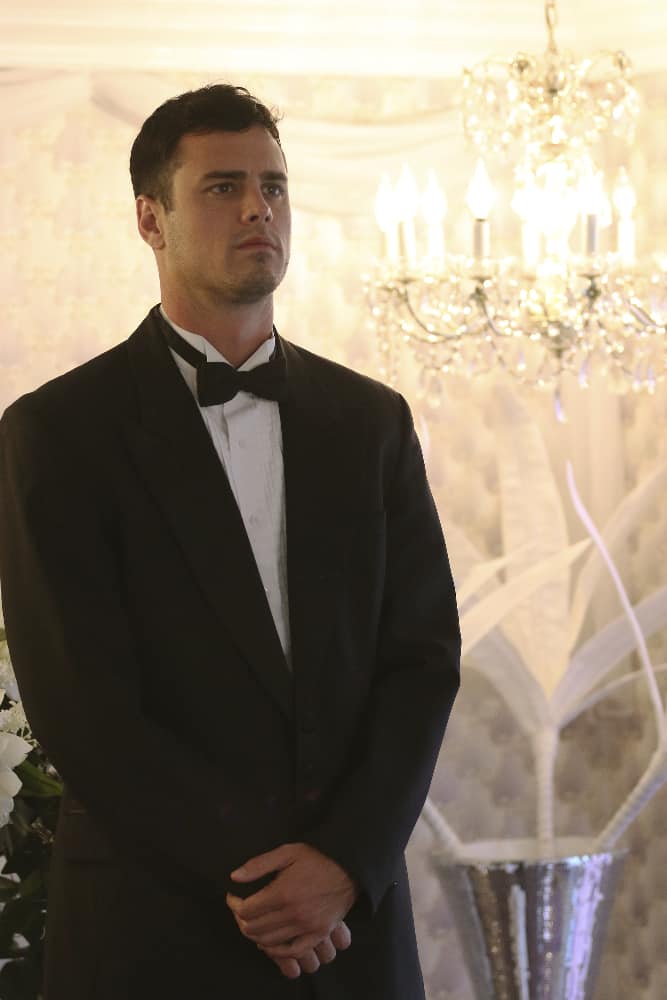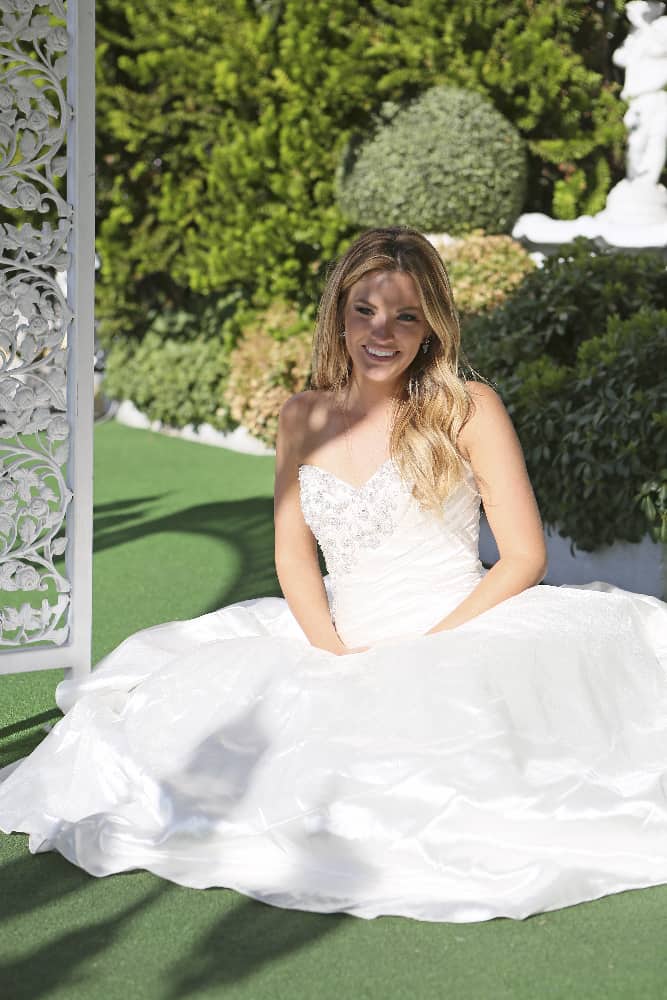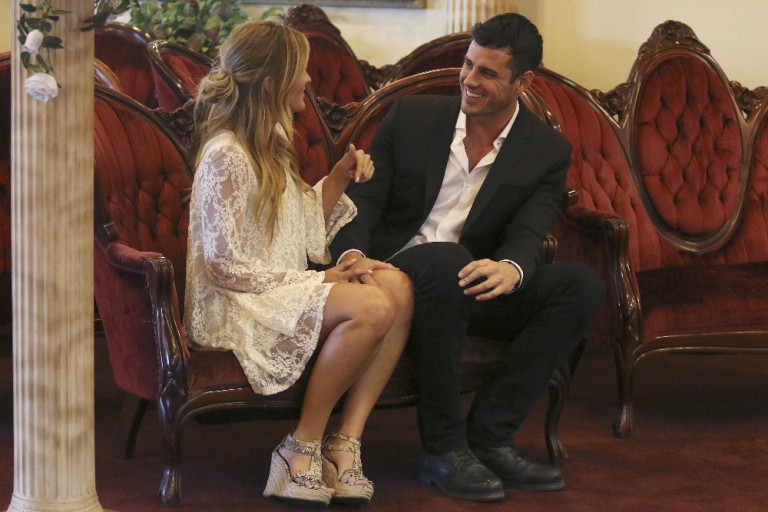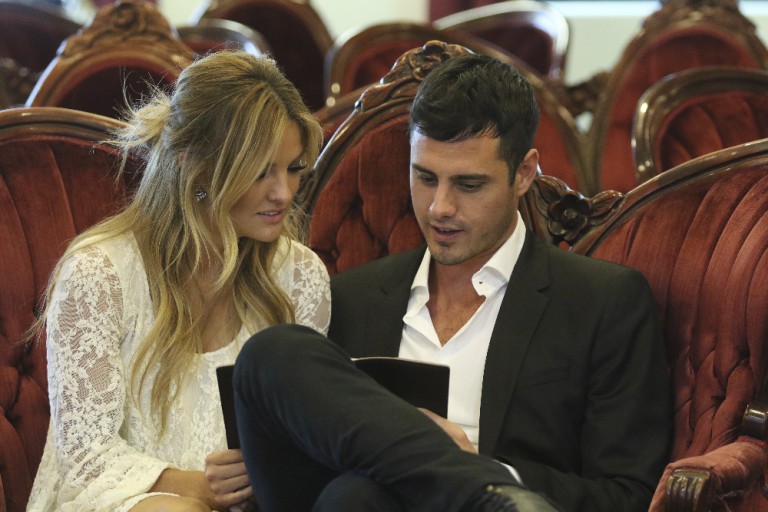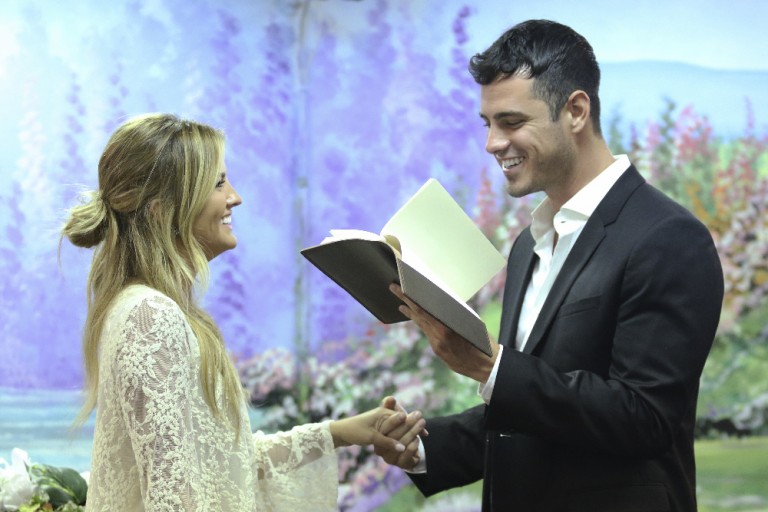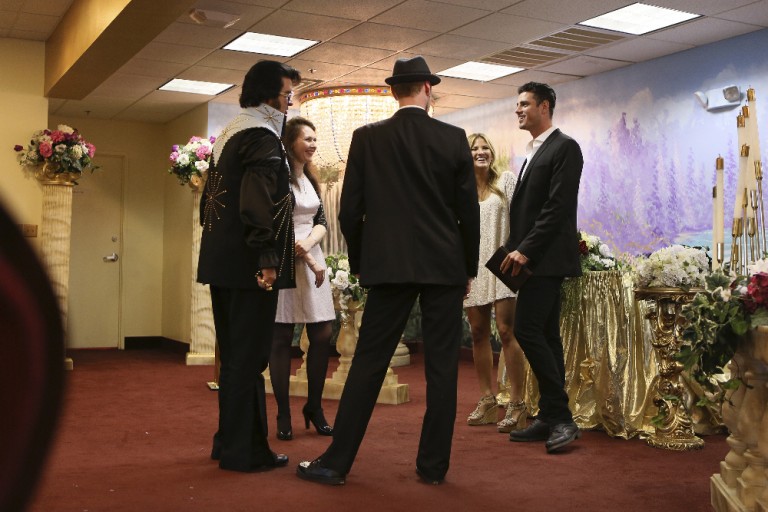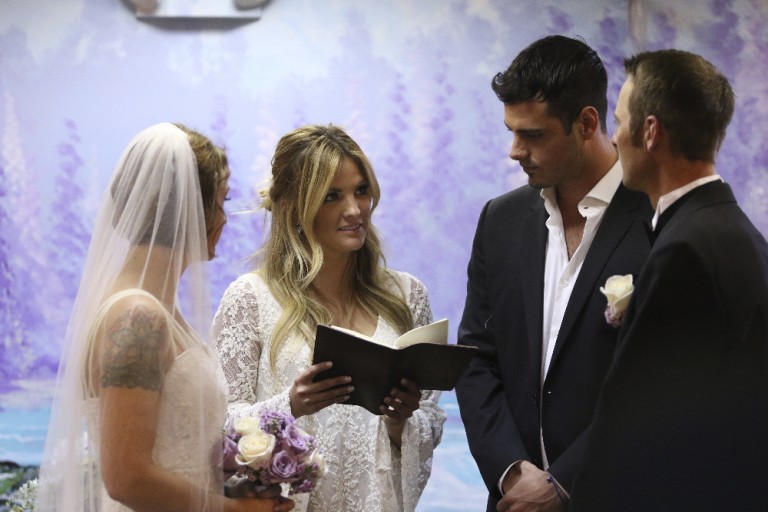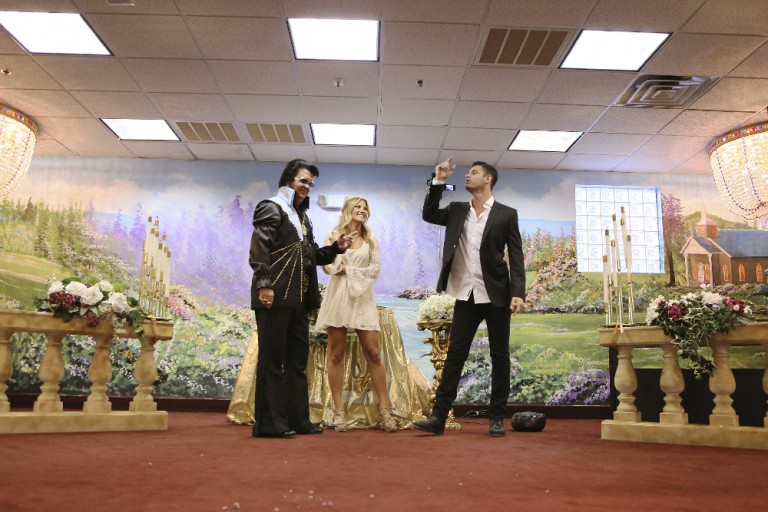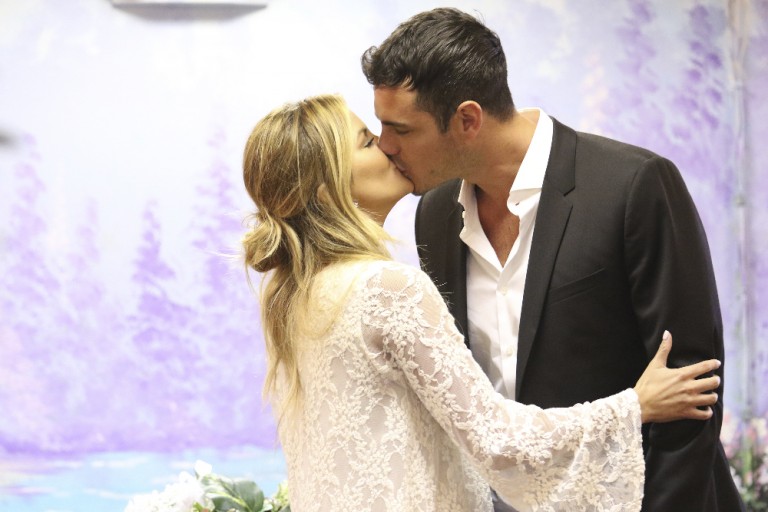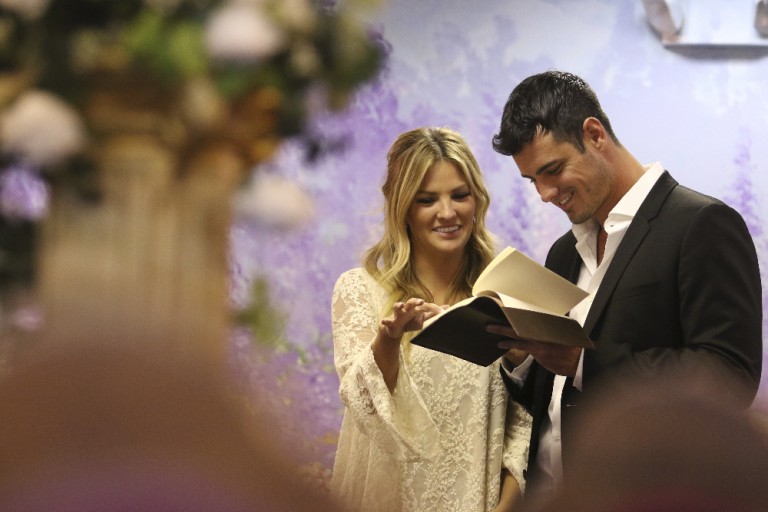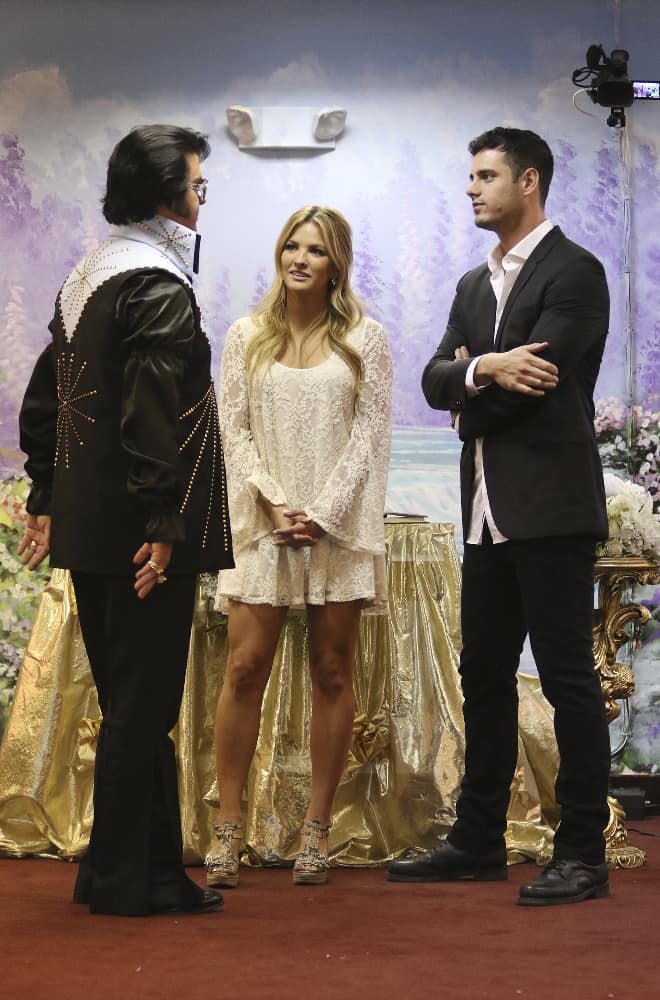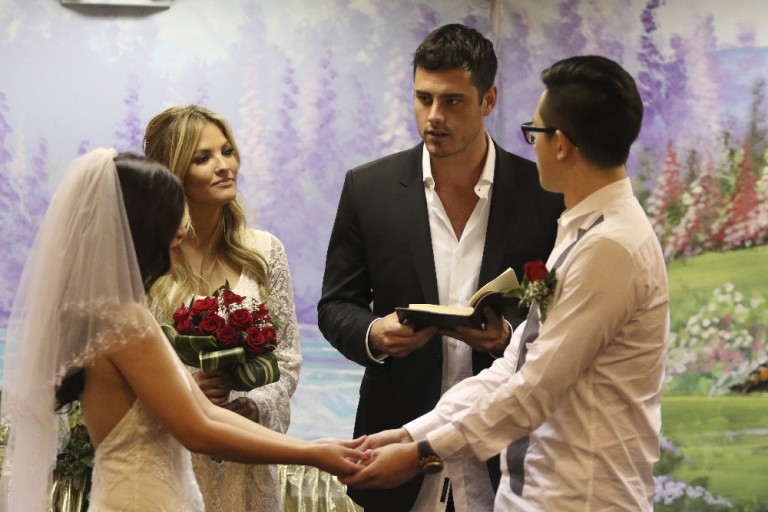 Ben and his bachelorettes all are willing to gamble on love in "Sin City," as he escorts the remaining 14 women to Las Vegas. JoJo, whose chemistry with Ben is off the charts, joins the Bachelor for a tour of the glittering Las Vegas strip by helicopter. Versatile singer, comedian, ventriloquist and celebrity impersonator Terry Fator invites 12 of the ladies to be his opening act. What special talents will they display? Becca is thrown off guard when her date card is accompanied by a wedding dress. Her arrival at the "Little White Wedding Chapel" is met with an intriguing proposal from Ben. The twins, Haley and Emily, get a special date with the Bachelor. Olivia continues to irritate the other women, but will her annoying habits get her a rose? Eleven women remain, hoping to get a proposal from Ben and everlasting love.
[Photo credit: Ronda Churchill/ABC]