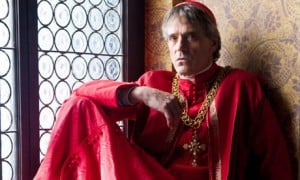 The Borgia family suffered a series of blows last season that left them staggering. While Lucrezia lost Paolo and was forced to think about remarrying before she was ready, Cesare fell further out of favor with Rodrigo and Juan never recovered from an infected leg and humiliation on the battlefield, all but forcing Cesare to put him out of his misery. However, arguably the toughest blow was dealt by Cardinal della Rovere, who managed to infiltrate the Borgia camp and execute a hit on Rodrigo with a dosage of poison. This season on The Borgias, will Rodrigo be able to retain the papacy and recover from what happened before anyone can either finish him?
In a behind the scenes look at the third season of the historical drama, currently filming in Budapest, Rodrigo is shown being in full health, directing orders while on horseback. There was never any doubt that he would recover from the attempted assassination, but the fallout from there even being an attempt could be far reaching and have more significant impact than if he had succumbed to della Rovere's latest attempt at revenge. The cardinal will likely be inspired to go bigger and bolder in his next plan to make sure that it's successful, which could eventually lead to his undoing, while the Pontiff could become even more paranoid about his grasp on the papacy and the power of his enemies. That paranoia, seeded in the way he was elected to the throne, doesn't have to be a bad thing, however; it may cause him to go over his closest confidantes to suss out anyone not 100% loyal to him, increasing his safety and peace of mind.
Should Rodrigo let that paranoia take over his life, though, it could affect not only his leadership of the church but his relationship with his family and those who would die to protect him. Could this be Cardinal della Rovere's plan all along?
The third season of The Borgias premieres Sunday, April 14th at 10:00 on Showtime. You can check out a teaser for the season here.
Will you be watching The Borgias this season? How do you think surviving the poisoning will impact Rodrigo?   Is this the season that Cesare will get out on the battlefield like he's always wanted?