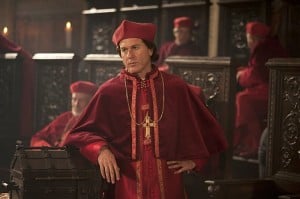 Now that Pope Alexander has fully recovered from the assassination attempt on The Borgias, he has to figure out who his enemies are and act against them before them make another attempt on his life. Ever since his ascension to the Throne of St. Peter, Alexander has been a target, both due to his position and how he won the right to be called Holy Father, but for the most part, the threats turned out to either be hollow or poorly followed up on. This time, he's dealing with a danger that is real and could abruptly end the rule of his family, meaning that the time to retaliate is now. But who will end up in the crossfire?
On the next episode of The Borgias, Pope Alexander has tasked Cardinal Sforza with instigating an inquisition among the Cardinals who were jockeying for position as he lay in his death bed. Once every Cardinal whose agenda was revealed upon the poisoning of the Pontiff is gathered up, Alexander dismisses them all, mostly peacefully. However, Cardinal Orsini resists all attempts at being removed from his seat, leading to Alexander having to take care of the situation himself. Having had his life nearly taken by a man of the cloth, the Holy Father will now approach the Cardinals much more cautiously, opting to keep them all at arm's reach until they're thoroughly vetted out. And even then, it's unlikely that any current Cardinal will get near enough to attempt what Della Rovere did last season.
Elsewhere on The Borgias, Catherina has ordered Rufio to seek support from the mercenary warlords of the Romagna families, while Lucrezia's in-laws will not welcome Giovanni at court and she begins to reexamine her feelings for Cesare, which have evolved from sisterly in nature to sexual.
The Borgias airs Sundays at 10:00 on Showtime. Be sure to click the link below to get a first look at photos from the next episode.
Are you surprised that The Borgias is tackling the obvious sexual tension between Lucrezia and Cesare? Is Pope Alexander smart in purging the Cardinals he doesn't trust? Do you consider Rufio and Catherina to be legitimate threats to the Borgia family?