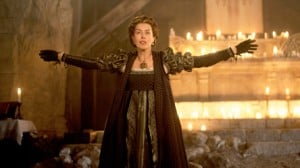 Catherina Sforza has come too far in her quest to take down the Borgia family to turn back now; the extent of her hatred for Alexander and Cesare and the amount of resources and support she was able to amass among the Romagna families have dashed any thoughts of Catherina pulling back and retreating. However, coming up on The Borgias, she's laying the groundwork for a final battle that has implications for not only the Sforzas and the Borgias, but for the whole of Italy and the stability of Europe. Has she prepared enough to be able to take down the papal armies (and all those who fight alongside)? Or will the cause she's dedicated her life to in recent times go unfulfilled?
Listed below are dates, titles, and descriptions for the last three episodes of The Borgias' third season.
Sunday, June 2nd – "Tears of Blood"
Pilgrims are flooding to Rome for the Jubilee year celebrations, and the Spear of Longinus is the centerpiece of the show. However Catherina Sforza has a plan to frustrate Alexander's lucrative festival.  Across the sea in Kefalonia, the Turkish fleet is destroyed by Mattai's (Brendan Cowell) Jewish contacts – Alexander shows his gratitude with a Bull exempting the community from taxes. Meanwhile, Lucrezia senses a change in newly crowned Frederigo, and realizes that she is under constant watch from the royal guard. The Borgias have walked into a trap: Lucrezia learns that Frederigo faked his near death to get Raphael out of the way, while at the same time in Rome, Cesare and Micheletto discover that the latter's lover Pascal is a spy working for Rufio (Thure Lindhardt), reporting to a conspiracy of Catherina Sforza and King Frederigo of Naples. Lucrezia is not an honored princess in Naples, she is a hostage against any military moves against the Sforza family.
Sunday, June 9th – "The Gunpowder Plot"
Devastated by his betrayal by Pascal, Micheletto kills his lover and subsequently disappears. Devastated by the loss of his loyal lieutenant, Cesare races to Naples to rescue Lucrezia, but she has already escaped her captors – with the aid of a sleeping potion. Brother and sister are reunited on the road back to Rome, and are so overjoyed to see one another that Alfonso (Sebastian De Souza) begins to suspect that their relationship seems more than that of ordinary siblings. Back in Rome, Alfonso becomes sullen and almost abusive, drinking heavily. Alexander, meanwhile, has come up with another plan with his friend Mattai: they scheme to corner the market in Italian sulphur, thus denying anyone else the ability to manufacture gunpowder. Still, Alexander does not trust Cesare, who quickly uncovers his father's plot, but it is Mattai who persuades father and son to reconcile.
Sunday, June 16th – "The Prince" (Season Finale)
Alexander and Cesare are reconciled at last, and the Pope reveals that the Papal Armies have been strengthened and re-equipped with the money saved from the Crusade and the proceeds of the Jubilee. Now, the Borgias are ready to move against their enemies the Sforzas and are ready to take their first step towards their ultimate goal: to carve out a hereditary kingdom across the heart of Italy. Cesare marches his fearsome army to lay siege to Catherina Sforza's castle at Forli. Catherina is determined to resist despite the artillery bombardment and the danger of starvation in the bitter winter. Micheletto (Sean Harris) reappears from the shadows – his broken heart will not yet let him return to Cesare's service, but he does advise Cesare of weak spots in Forli's defences. Back in Rome, Cesare finds that Alfonso has become even more aggressive and Cesare plans to murder him. But circumstances become deadly when a scuffle breaks out between Cesare and a drunk Alfonso. The doctor reports that Alfonso will certainly die, slowly and painfully over several days. Devastated, Lucrezia turns to her potions to end his life painlessly with Cesare vowing that now she will be his for good.
The Borgias airs Sundays at 10:00 on Showtime.
What have you thought about this season of The Borgias? How will Cesare exploit the weaknesses of Forli and defeat Catherina Sforza? Is Micheletto ever going to be able to overcome his broken heart?