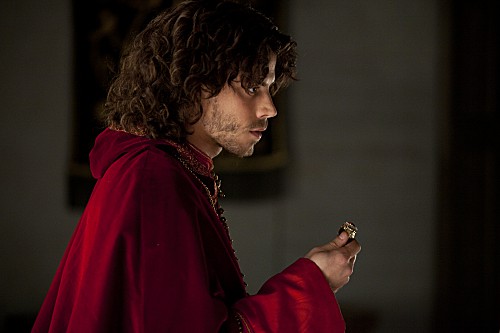 The final two episodes of the second season of The Borgias were especially rough on Cesare. While there was undoubtedly a sense of relief that came with putting Juan out of his misery, he still lost a brother and even more important than their long-standing bad blood was the image portrayed of Italy's first family weakening before the public's eyes. There would no longer be one on the battlefield and one in the cloth and it could potentially signal the beginning of the end of the Borgia rule. Then, while having dinner with Rodrigo, the wounds they had recently suffered looked like they were slowly beginning to heal and that the family might be able to take a breath – until Rodrigo was poisoned, his fate currently pending. How would Cesare handle two tragedies in short succession?
The first teaser for the third season of The Borgias indicates that he'll be finding solace with Lucrezia, the member of the family he's always felt the closest with. He didn't have a good relationship with Juan, out of competitiveness for Rodrigo's attention, and his relationship with Rodrigo was at best strained due to perceived favoritism toward Juan, so it makes sense for him to retreat to a source of comfort, both out of need for soothing and an obligation to protect her from any upcoming ills. But what about their attraction toward one another? Tragedy can often lead people to do things that they had only previously thought about, as they have to face their own mortality upon experiencing a death close to him, but will that be enough to get the two to consummate their feelings for one another?
The third season of The Borgias debuts Sunday, April 14th at 10:00 on Showtime, following the fifth season premiere of Nurse Jackie at 9:00.
What are you expecting from the third season of The Borgias? Will Cesare and Lucrezia consummate their long-standing attraction to one another? If they do, how will that impact the Borgia family dynamic?
http://www.youtube.com/watch?v=Ni1vfZ_NSEs