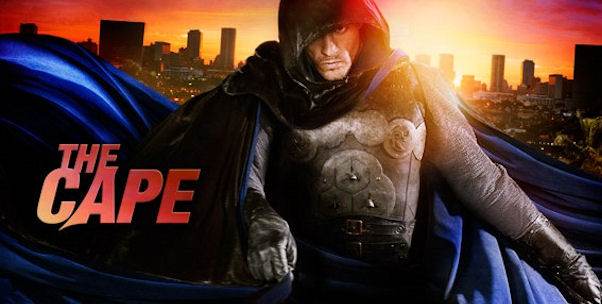 The Cape is caught in an undertow of negative criticism, and depending on which hour of the premiere you look at it's either killing NBC's freshman superhero show – or helping it. We have varying assessments of The Cape here at TVOvermind, with Sam coming up on the side of those who really don't like it and myself thinking it is just light comic book fun. Nielsen families, on the other hand, seem to be completely split. In terms of demos, what they are telling NBC is that The Cape is, surprisingly, a 10pm show. The Cape was fourth in its 9 o'clock premiere, but not at 10pm where the show was number one in 18-49 ratings share – the only share advertisers seem to care about – and second in live viewers. But hold onto your hats, because – believe it or not – none of this really means much for The Cape because it's not even a Sunday show.
That's right, The Cape is actually a 9pm Monday show – in fact, The Cape will re-premiere tonight at 9pm on NBC. Both. Hours. Expect more gloom and doom tomorrow when the already-saw-it handicap causes The Cape to sink to not-ready-for-primetime proportions. As for its chances next week, when The Cape begins premiering new episodes against the competition, odds are it will do well. 9PM Monday is well divided in terms of programming choices including CBS's solid comedy block of Two And a Half Men and Mike and Molly; ABC's Reality Competition offering The Bachelor, which had a lackluster premiere last week; and FOX's struggling drama effort Lie To Me, which is essentially just burning off at this point. Since Monday is not Sunday though, there's no way to predict how The Cape will perform against this slate next week and tonight's numbers will be useless since the assumption will be that low numbers are the result of The Cape's target audience No doubt The Cape will fail to take the number one spot from CBS's sitcom block, but it should handily beat Lie to Me and if The Bachelor trends down The Cape could conceivably find itself in the number two spot.
The bottom line is that due to NBC's curious premiere scheduling ANY analysis of the numbers is going to be moot until next week, with the critics that panned it focusing on hour one and the ones who didn't focusing on hour two.