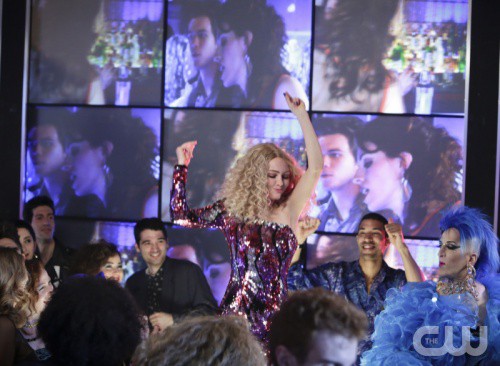 Carrie's time in the city has often led to major developments in the lives of her friends. While Walt experienced his first kiss with a guy and Mouse got back with her boyfriend during their trips into Manhattan with Bradshaw, Maggie won out over Donna in the battle for the diner and Mouse learned to stand up for herself in the time that Carrie was away. Coming up on The Carrie Diaries, Carrie has a night out with Larissa and the staff at Interview, during which Maggie and Mouse confront Sebastian, Tom finds himself on a date for the first time since his wife died, and Donna attempts to blackmail Maggie in revenge over what happened at the diner.
Listed below are the date, title, and description for the March 4th episode of The Carrie Diaries.
Monday, March 4th – "Hush Hush"
Carrie (AnnaSophia Robb) is thrilled when the junior-senior lock-in provides the perfect cover for a night out in Manhattan with Larissa (Freema Agyeman) and her Interview co-workers – until a surprising encounter turns her night upside down. Maggie (Katie Findlay) and Mouse (Ellen Wong) confront Sebastian (Austin Butler) about his feelings for Carrie and tell him he better make a grand gesture if he stands any chance of winning her back. Harlan (guest star Scott Cohen) finally convinces Tom (Matt Letscher) to go on a double date, with surprising results. Meanwhile, Maggie tries to find the courage to tell Walt (Brendan Dooling) about Simon (guest star Josh Salatin) before Donna LaDonna (Chloe Bridges) does.
The Carrie Diaries airs Mondays at 8:00 on The CW. You can check out spoilers for the next two episodes here and here.
How will Carrie's night out with Larissa and the Interview staff go? Will Sebastian attempt to win Carrie back after breaking things off with Donna? Can Maggie outsmart Donna and reach Walt first?