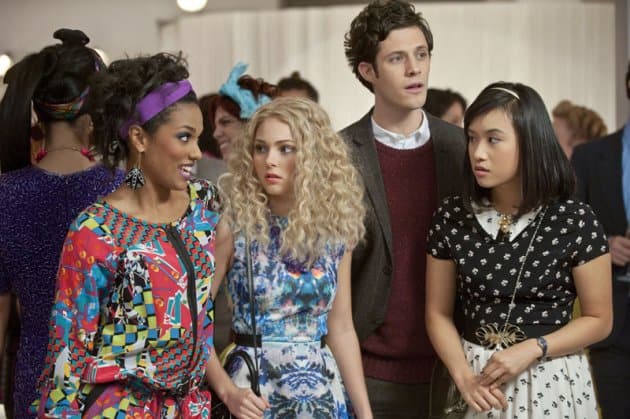 Carrie got her connection to the fashion world by happenstance, but now that she's been around Larissa on several occasions, the two have formed a bond that neither of them expected to find. Carrie found out that underneath all the glam and the designer names, Larissa is insecure and trying to keep up with the rest of the world like she does, while Larissa seems rejuvenated by the idea of exposing Carrie to the world she had only previously read about. All the time together, the experiences that they've shared, have bound to mean something and coming up on The Carrie Diaries, Larissa will have an offer that Carrie might not be able to refuse.
Listed below are the title and description for the February 25th episode of The Carrie Diaries.
Monday, February 25th – "Caught"
Impressed with Carrie's (AnnaSophia Robb) creative prowess, Larissa (Freema Agyeman) offers her an internship at Interview, but Carrie is torn about whether she should take it. Carrie invites George (guest star Richard Kohnke) to the school dance, but when she suggests they leave the dance early, George gets the wrong idea about her intentions. Dorrit, (Stefania Owen) who used to go to the Nutcracker ballet with her mother every year, reluctantly agrees to go with Tom (Matt Letscher), but he has a hard time filling his wife's shoes. Mouse (Ellen Wong) gets a B+ on an exam and blames it on her relationship with Seth (guest star Kyle Harris.) Meanwhile, Donna LaDonna (Chloe Bridges) catches Maggie (Katie Findlay) cheating on Walt (Brendan Dooling) and blackmails her into keeping Carrie away from Sebastian (Austin Butler.)
The Carrie Diaries airs Mondays at 8:00 on The CW. You can check out spoilers for the next two episodes here.
Should Carrie take the internship at Interview? Will Dorrit and Tom make up and enjoy the ballet together? Is Mouse taking her B+ too hard and blaming the wrong person?