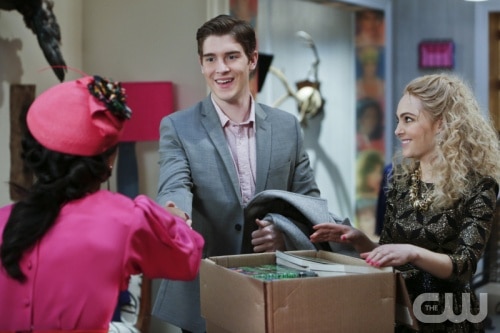 Carrie has yet to be able to make the choice between her life in Connecticut and her life in Manhattan. While she would never intentionally leave her high school friends behind, her heart lies in the city and the opportunity that it presents her to expand her mind and fulfill her fashion dreams. Thus far on The Carrie Diaries, she's balanced her time and attention between her two lives (and selves) fairly well, but coming up on the show, a special occasion will put her allegiance to the test. Where would Carrie rather be on an important moment in her life: spending time with Sebastian around Castlebury or living it up in the city with people who think she's an adult?
Listed below are the date, title, and description of the tenth episode of The Carrie Diaries, which will be concluding its first season on April 8th. The rest of The CW's season finale dates can be found here.
Monday, March 18th – "The Long and Winding Road Not Taken"
On her seventeenth birthday, Carrie (AnnaSophia Robb) is torn between an opportunity to mingle with New York's literati and spending time with her friends and Sebastian (Austin Butler). Mouse (Ellen Wong) goes to extensive lengths to impress a Harvard alum who has her eyes set on West (guest star RJ Brown), with hilarious results. Walt (Brendan Dooling) starts taking responsibility for his previous actions. Elsewhere, Dorrit's (Stefania Owen) search for the perfect gift for Carrie lands her in a sticky situation with romantic possibilities.
The Carrie Diaries airs Mondays at 8:00 on The CW. You can check out a recap of the most recent episode here, as well as spoilers for upcoming episodes here and here.
What should Carrie do for her birthday? Will Mouse impress the Harvard alum and wash the B+ stink off of her? Would meeting someone make Dorrit happier and help her ease into life without her mother?