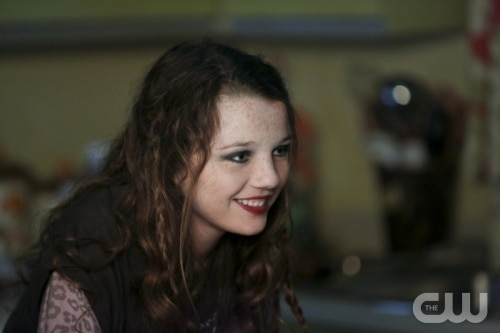 On top of grieving for her mother, balancing life in the city with life in the suburbs, and figuring out all things in the matter of love, Carrie Bradshaw has to worry about her little sister, who has withdrawn over the past few months. If she and Tom aren't careful over the next little while in Dorrit's development, she could very easily take a wrong turn that she can't come back from, so the two have been extra stringent in how they handle her and the boundaries that are set. It's a lot for a sheltered 16-year-old to take in and sort out, as there's very little time left in her day to just take a breathe and relax, let alone deal with the flurry of conflicting emotions that come with being a teenager. But coming up on The Carrie Diaries, it looks like Carrie might have gotten rid of one worry about her sister only to have another pop up to take its place.
Listed below are the title and description of the April 1st episode of The Carrie Diaries, the penultimate of the first season.
Monday, April 1st – "A First Time for Everything"
When Carrie (AnnaSophia Robb) inadvertently complicates things with Sebastian (Austin Butler), she tries to fix it by taking him to Madonna's "The Virgin Tour" launch party – but in her quest for the perfect night, only makes things worse. Despite Mouse's (Ellen Wong) best efforts to avoid West (guest star RJ Brown), she can't seem to deny the romantic sparks flying between them. Dorrit (Stefania Owen) turns to Donna LaDonna (Chloe Bridges) for advice about her budding love life. Meanwhile, Tom (Matt Letscher) has an awkward encounter when he spends the night somewhere new.
The Carrie Diaries airs Mondays at 8:00 on The CW. You can check out spoilers for the two episodes leading into this one here and here.
Are you surprised at Dorrit turning to Donna for advice rather than one of her friends or Carrie? Is Carrie's overthinking going to ruin things with Sebastian? Should Mouse give in to her feelings for West?